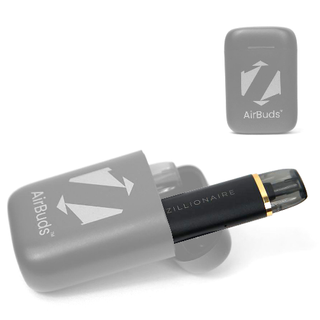 AIR BUDS REFILL 1G (100% THC)
Concentrate Type
Distillate
Description
ZILLIONAIRE AIR BUDS are the perfect choice for those who demand a powerful and convenient vaping experience. Each refill contains a full gram of high-quality, 100% THC oil. This provides unbeatable value and quality for those who want to enjoy their vaping experience to the fullest.
The advanced ceramic heater design represents a revolutionary change in vaping technology, allowing over 100 million micropores to evenly distribute across the oil supply area. This ensures accurate temperature control and 2.4 times more capacity than other ceramic heaters on the market.
The ceramic coils provide a smoother and more flavourful hit compared to traditional metal coils, and the oil is made using only the finest cannabis strains and natural cannabis terpenes. Each cartridge is lab-tested to ensure purity and potency, so you can trust that you're getting a safe and effective product.
Experience the ultimate in vaping pleasure with ZILLIONAIRE AIR BUDS 1g Refills.
Reviews
We currently have no reviews.
More by Zillionaire Vapes
New York, NY
Showing results in nearest to selected region