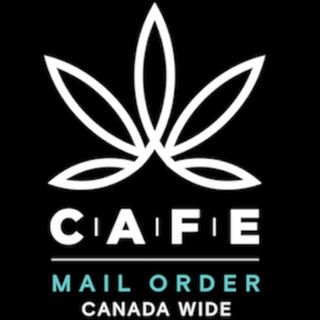 CAFE Mail Order
Mail Order
Orders can be placed by:
About Us
The CAFE team values the power of education and community to cultivate meaningful, shared experiences that inspire and enhance your life. 
You'll find our budtenders and baristas try to establish a positive impact on the future through the promotion of harm reduction, social responsibility and the empowerment of our patrons and neighbours. 
Above all, our goal is to create a movement that fosters wellness, safety and the evolution of a culture.
Make an order to see for yourself, we sensure all of the cannabis and fine edibles that we've sourced from local Canadian businesses, maintaining the highest quality standards at affordable prices.https://potify.net/promo/cafe-mail-order-toronto
Phone lines are live, call NOW to speak to one of your favourite budtenders. 1-800-551-2965
Mail order is available Canada-Wide.
$10 Shipping Fee within Ontario, Minimum order $30
$20 Shipping Fee - Alberta, British Columbia, Manitoba, New Brunswick, Newfoundland and Labrador, Nova Scotia, Prince Edward Island, Quebec, and Saskatchewan.
FREE Shipping for customers +55
FREE Shipping on orders over $150. Receive your order in 1-5 business days (location dependent)
Buy 6 get 1 FREE - Flower & Pre-roll 
Accept CREDIT, DEBIT, AMEX as form of Payment.
Once your Mail Order has been placed, you'll receive a call from our fulfilment office for us to Verify your Address and Payment Information. Please keep an eye out for this call. Order is shipped via Canada Post to your designated Address or P.O Box