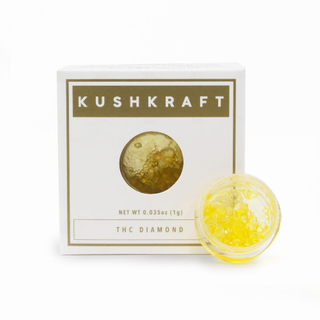 1G THC Diamonds in Terp Sauce by KushKraft
Strain Type
Full Spectrum / RSO
Description
Diamond Sauce (terp sauce) is our premiere sauce and features a High Cannabinoid Full Spectrum Extract (HCFSE), which contains THCA crystals soaked thoroughly in terpene-rich sauce. Our Diamond Sauce is versatile enough to either dab it with your favorite dab rig or vape it. This potent terp sauce will **** your mind but be aware it's not for the faint-hearted. If you enjoy premium, rich terp sauces, then our Diamond Sauce will be perfect for you!
Ingredients
99% pure THC-A crystals soaking in a terpene rich live resin sauce.
Cautions
KEEP AWAY FROM CHILDREN AND PETS. This product contains cannabis and is intended for adult use only. Should not be used by women who are pregnant or breastfeeding. Cannabis has intoxicating effects and may impair concentration, coordination and judgement. In some cases, cannabis may improve concentration, coordination and judgment. Do not operate a vehicle or machinery while using this product.
Shelf Life/Storage
Store in a cool, dry place.
Where to Buy This Product
Reviews
We currently have no reviews.