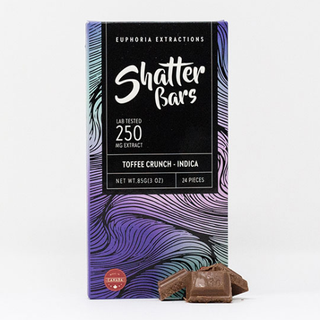 250mg Indica Toffee Crunch Shatter Bar by Euphoria Extractions
Strength
Med - 51mg to 250mg
Description
Euphoria Extractions Toffee Crunch Shatterbars are the perfect solution for your edible needs.
With 24 squares of the highest quality Belgian chocolate, these bars are easy to manage and contain a potent 250mg of Lab Tested Full Spectrum Extract sourced from the finest cannabis available.
Euphoria Shatterbars are guaranteed to provide total satisfaction.
Where to Buy This Product
Reviews
We currently have no reviews.