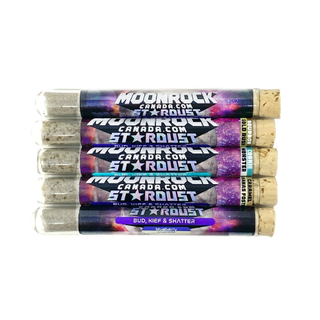 Moonrock Stardust Shatter Pre-Roll
Lab Testing
Other / Not Specified
Description
STARDUST PRE-ROLL
A Unique Top Seller Exclusive to Moonrock Canada!
Moonrock's Stardust pre-roll consists of an OG bud, dipped in Co2 honey oil and shatter and powdered with kief making this and our Meteorock the most potent products in our line. 70-75% + THC Shatter range! This (and the Meteorock Products) are our strongest THC products in the Galaxy. You are in for a ride! Extract yourself to the Moon!!! Our Stardust PreRolls come in: Blueberry Crumble, Bourbon Gold Rush, Caramel Bananas Foster, Cookie Monster, and Original. This 1.2 gram roll comes in a glass tube and cork. Ideal for multiple light ups for such a strong joint you might need this option.
Reviews
We currently have no reviews.