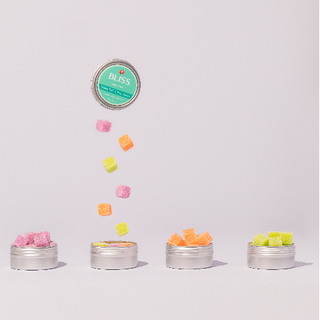 BLISS: 375mg THC Infused Gummy
Concentrate Type
Distillate
Strength
High - 251mg to 1000mg
Description
Bliss is a Vancouver, B.C. based edibles company that specializes in creating cannabis infused, fruit flavoured gummy squares. All of their products are made with high quality, top grade cannabis grown right here in British Columbia, along with natural fruit juices and organic cane sugar. They believe in building a safe and enjoyable experience for you every time. They use advanced infusion technologies to deliver consistent potency and greater absorption rates of THC, so you get more of the effect that you expect. The airtight tin resealable tin makes sure that your candies stay fresh and protects them from being squished when you're carrying them around.
Bliss is the perfect gummy edible for both recreational and medicinal users. Recreational users love Bliss for the smooth and mellow high it offers, while medicinal users love the precise and reliable dosage from each piece. These gummies are great for easing pain, anxiety and stress, while putting the user in a happy and euphoric state of mind.
TROPICAL ASSORTED: One bite-size away from paradise with our Tropical Assorted Gummies. Each gummy contains a precise dose of THC, coupled with a burst of mouthwatering natural flavor. Pop one of these easy-to-dose treats any time of the day. Flavours include Blue Raspberry, Watermelon, and Pineapple.
PARTY MIX: Our Party Mix Gummies is your fast-track ticket to a fiesta. Infused with THC and crafted for a juicy delight in every bite, you can kick back, relax, and remember the good times with these Party Mix gummies. Flavours include Green Apple, Juicy Grape, and Peach.
Reviews
Pretty strong ediables, taste great and got me REALLY high