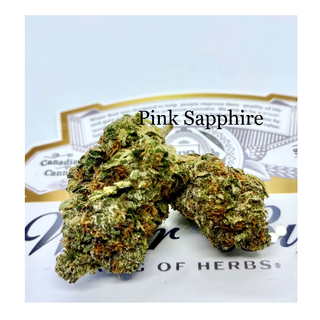 *** PINK SAPPHIRE - Hybrid - $100 Oz Sale !!
Lab Testing
Cannabinoid Testing
Description
1 Oz $150 now $100
Pink Sapphire also known as "Sapphire Star," is an evenly balanced hybrid (50% indica/50% sativa) strain created through crossing the dazzling God Bud X Hawaiian strains. With a name like Sapphire, you know it's going to be one gorgeous bud – it has small lumpy dark forest green nugs with surprisingly bright blue undertones, fiery orange hairs, and a thick frosty coating of chunky trichomes that look almost gold in the right lighting. The Sapphire high is just as ethereal as its appearance, with a clear-headed high that is well-balanced with a pain numbing body buzz. The high starts with a cerebral head rush that infuses you with a slight sense of energy and a feeling of complete euphoria. This euphoria will lend itself to any creative activities, providing inspiration and focus. As your head high builds, a soothing body buzz will wash over you, offering pain relief without weighing you down.
Reviews
We currently have no reviews.