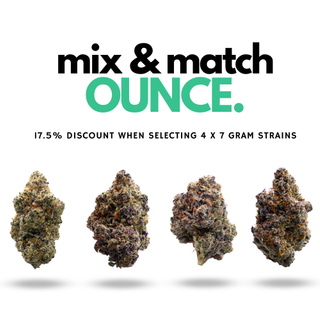 *SPECIAL - Build An Ounce @ zendelivery.co
Strain Type
Ratios of CBD / THC
Lab Testing
Other / Not Specified
Description
Customize your own bundle with the Mix & Match.
This bundle is great for customers to try multiple strains from our premium selections.
Pick 4 strains (7g each) to build your own ounce.
Must pick four (4) different strains. Stacking same strains will result in failed order.
Pricing is based on the strains chosen.
17.5% discount is already applied to the strains in selection
Visit to build your bundle today: https://zendelivery.co/product/build-an-ounce/
Reviews
We currently have no reviews.