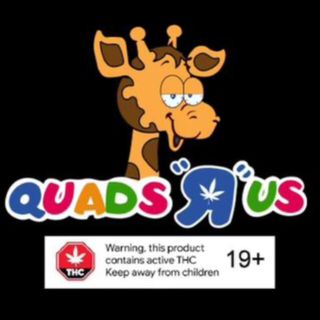 QUADS "R" US
Delivery
Orders can be placed by:
Location / Hours
Wed:
7:00 AM - 10:30 PM - Open Now
* Hours of operation may vary by your location.
About Us
🔈$75 Dollars Off Instant when you spend $300 Dollars or more!!!🔈
🔈$100 Dollars Off Instant when you spend $350 Dollars or more!!!🔈
Purchase any 1oz Quads and Get 1/2oz Quads FREE (Quads Only ,Bud of equal or lesser value)
Welcome to Quads "R" Us
⛽"Quads Only, No Exceptions"⛽ is our slogan!!!!!
We focus on hand crafted premium quality buds to meet the best prices; we focus on small  batches of the finest flowers from Nelson,Kelowna, Victory, Whistler, Prince Rupert British Columbia( All Buds are from the West Coast Only!!) to ensure freshness and an ever-changing menu with the latest buds. We love our customers and we are driven to deliver the best bud buying experience and quality!!! 
1-2 HOUR DELIVERY GUARANTEE !!!!!!!!!(WITHIN DURHAM REGION)
Minimum Order is $100 & FREE DELIVERY (Within Durham Region)
-Mix and Match!!!!
Delivery Area Fees &FREE DELIVERY 
-For Durham Region Free delivery for orders $100+
Delivery Windows
12pm
3Pm
6Pm
9pm and 10:30 pm Last Call 

Other areas
✅Oshawa Free Delivery 
✅Ajax Free Delivery 
✅Pickering Free Delivery 
✅Whitby Free Delivery 
✅Bowmanville  $10 
✅New Castle   $10
✅Courtice        $10
✅Hampton.     $10
✅Newtonville  $10 
✅Port Hope     $10
✅Orono.          $10
🔥$100 oz- Cake Batter - Pink Cookies - RockStar ( These Are High Trips Strains)
or
🔥$160 for 2 oz 
or
$300 for Qp 4 OZ 
📲To order 
🔈call or text 647-853-2482 🔈