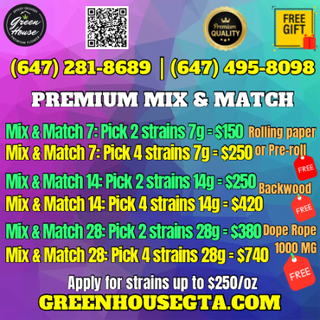 *# PREMIUM MIX & MATCH DEAL
Lab Testing
Cannabinoid Testing
Description
Welcome to GreenHouse GTA, where we invite you to explore an extraordinary range of cannabis strains with our exclusive Premium Mix & Match Deal. With this deal, you can mix and match 4 ounces of cannabis with four different premium strains, or opt for 2 ounces with 1 ounce each, and receive a pack of gummy dope rope 1000mg.
For a more customized experience, choose 4 strains of 14g or 2 strains of 14g, and receive a free pack of Backwood. Alternatively, you can select 2 or 4 strains of 7g and enjoy free premium rolling paper or a pre-roll.
Not only will you have access to an extensive selection of top-quality strains, but you can also save up to $250 by taking advantage of our Premium Mix & Match Deal. Don't miss this chance to elevate your cannabis journey. Visit GreenHouse GTA today and embark on an unparalleled sensory adventure
https://www.greenhousegta.com/product-page/premium-mix-match-deal
Binghamton, NY
Showing results closest to your selected region
Where to Buy This Product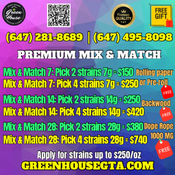 Where to buy
*# PREMIUM MIX & MATCH DEAL
Reviews
We currently have no reviews.
More by GreenHouse GTA
Binghamton, NY
Showing results closest to your selected region