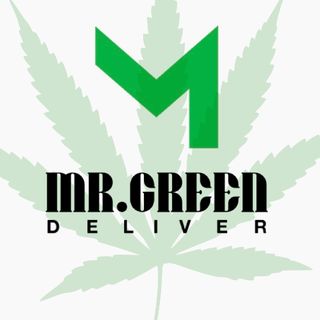 Mr.Greendeliver
Delivery
Orders can be placed by:
Location / Hours
Aberdeen and Longwood Rd S
Hamilton, ON
* Hours of operation may vary by your location.
About Us
Welcome to MR.GREEN DELIVER!!
We are a local business offering premium products to consumers in a fast, friendly, convenient, and safe manner! We are taking all precautions following the health and safety guidelines, packaging, and delivering all your products handled in the highest sanitation environment.
Delivery Area & Fees
We deliver to Brantford, Caledonia, Paris, Hamilton and surrounding areas!
FREE delivery for orders over $50 
$10 Delivery for orders under $50  
Surrounding area's 
MINIMUM delivery over $250

Text to order
Please TEXT order to 365 - 833 - 3143
Send a selfie with your ID in the same photo (for first-time clients) and address to place your first order
Loyalty Program
When you order 5 orders over $100, your 6th order you'll receive a free 1/2 oz of Grape Pie or Sundae Driver.
Refer a friend, mention your name and get a free pack of gummies or 1/2  oz of Grape Pie or Sundae Driver on your next order.
All orders over $150 get a gift of a gram of shatter!!
We mix and match flowers!
**Please feel free to leave us a review as we value all our customer and your opinions on products to improve to your satisfaction 
NEW LOCKDOWN AND COVID HOURS
9 AM - 7 PM
LOOKING FORWARD TO YOUR BUSINESS.  
CHEERS!!