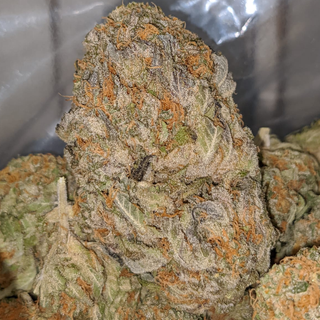 Blueberry punch AAA+ (80% indica)
Lab Testing
Cannabinoid Testing
Description
Get free 7g Flower with purchase of Oz or 1 g shatter or live resin !
GWY Indica Dominant Hybrid - 80% Indica / 20% Sativa
large and caked.. exotic nose.. super rich and fire terps and flavor.. amazing value for price.. clean high.. tested @ 24.51% THC. Blueberry is an indica dominant hybrid strain with unknown true parentage. This bud has been traced back to the early 70's when the infamous American breeder DJ Short started playing around with different landrace strains, ultimately resulting in this insanely delicious variety. It is thought to be descended from Purple Thai X Afghan, but we will never know for sure. Nonetheless, Blueberry is one of the most popular strains on the market and took home the 2000 Best Indica award at the High Times' Cannabis Cup thanks to its high-powered effects and mouthwatering blueberry vanilla flavor. The Blueberry high has a euphoric and hazy feel to it that creeps up on you slowly before washing over you with a sense of calm and ease. As this high grows, your mind will fall into a state of hazy introspection that immediately erases any negative or racing thoughts and numbs the brain. With these relaxing effects and its high 16-24% average THC level, Blueberry is said to be perfect for treating conditions such as chronic fatigue, depression, migraines, and chronic stress or anxiety. This bud has grape-shaped olive green nugs with bright blue undertones, fiery orange hairs, and a frosty thick coating of tiny amber colored crystal trichomes. It has a smell much like the taste, with a spicy yet sweet earthy vanilla effect that's accented by fragrant florals.
Reviews
We currently have no reviews.