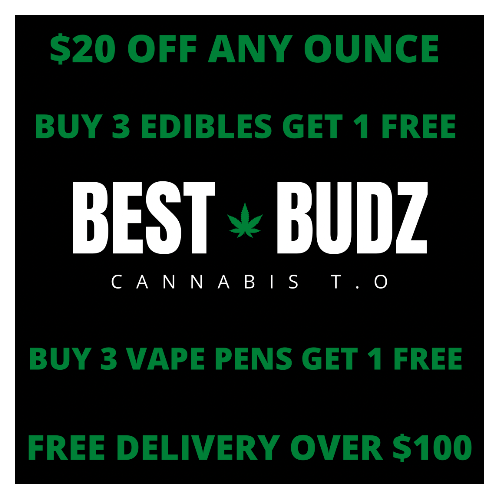 Best Budz Cannabis T.O
Delivery
Orders can be placed by:
Location / Hours
* Hours of operation may vary by your location.
About Us
About us
Best Budz Cannabis T.O ensures quality customer service, speedy delivery times and premium bud!
Following COVID Guidelines 
We prioritize the safety of all our customers by ensuring that all products are sanitized and delivered with minimum social contact. All drivers will arrive with masks to ensure the safety of the customer. 
Our Commitment To Our Customers
We thrive off top grade products and high quality services for all customers satisfaction. 
How To Place An Order
We are open for delivery between 11:00am to 8:00pm
Please text the following
Full Address 
Name
Complete order
Phone number
Government issued ID for new customers
Note:
Cash and e-transfer are accepted upon delivery 
If you require change please include it in the message so the driver can have that ready upon arrival 
Minimum $30 order is required for delivery
$10 delivery fee
Must be 19+ to order
Free delivery over $100
A Best Budz employee will contact you to confirm order and explain further payment information for e-transfers as well as delivery time.