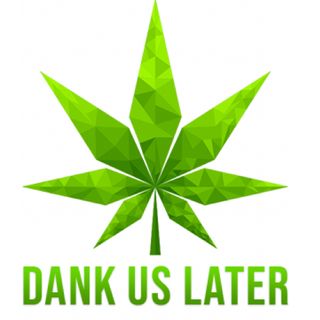 Dank Us Later
Delivery
Orders can be placed by:
Location / Hours
Laurier ave east and Nelson street
Ottawa, ON
K1n6p1
* Hours of operation may vary by your location.
About Us
Dank Us Later makes sure all connoisseurs enjoy top shelf BC strains that have been carefully selected by our team. All strain will meet a hight level of quality standards before reaching your door step. 
How to place an order:
Call us or email us
Text us to place an order with your address
Provide the following information 
-Your order 
-Name and phone number 
-Your address (please lets us know any specific instructions for delivery) residential or commercial during business hours only. 
All orders will be paid in (COD) Cash upon delivery ( limited time accepting e-transfer do to covid 19 ask for details) 
We offer fast and reliable delivery solutions.
ID is required upon delivery
Minimum order of $60 
Free delivery on all orders 
Free 1g on all orders 
Free 3.5g on all orders over $150 
Free 7g on all orders over $250 
Free 14g on all order over $500
Loyalty program on your 6th order receive a free Q ( we monitor this no need to sign up)
Our average wait time is 30 min to 90 min