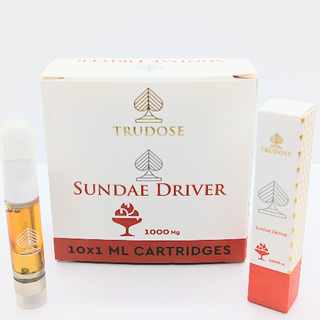 1ml - SUNDAE DRIVER 🍨🚗 $19.99 / 3 for $50
NO REVIEWS
CBD Isolates and THC Distillates
Delivery Methods
Other / Not Specified
Description
Sundae Driver is an evenly balanced hybrid strain (50% indica/50% sativa) created through crossing the delicious Fruity Pebbles X Grape Pie strains. If you're a fan of a chocolate sundae, you're going to be head over heels for this delicious strain. Sundae Driver packs a sweet creamy chocolate flavor with a lightly sugary fruity exhale. The aroma is of fresh earth and sweet sugary grape candy with a rich chocolately overtone that is slightly pungent at times. The Sundae Driver high is just as delightful as the flavor, with a relaxing and lifted high that will have you kicking back with ease after just a toke or two. You'll feel a euphoric onset that fills your cerebral state with a sense of giddy happiness. As your mind flies higher, your body will begin to fade away into a deeply relaxing state that has you dozing mere minutes later.
THC distillate with Sundae Driver terpene profile, Delta 9thc plant derived terpenes.
1ml for 19.99 or 3x 1ml for 50.00
New York City, NY
Showing results closest to your selected region
Where to Buy This Product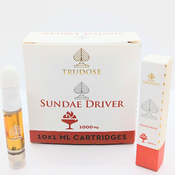 Where to buy
1ml - SUNDAE DRIVER 🍨🚗 $19.99 / 3 for $50
Reviews
We currently have no reviews.