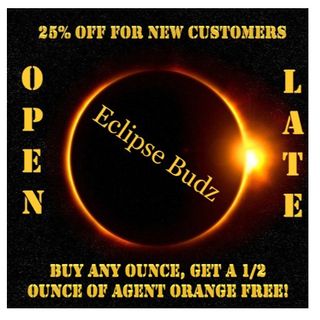 Eclipse Budz
Delivery
Orders can be placed by:
Location / Hours
Wed:
10:00 AM - 1:00 AM - Open Now
* Hours of operation may vary by your location.
About Us
How to order
Text 519-590-2044 with your name, full address including unit number, picture of photo ID along with your order. Please have cash on hand before placing your order, orders may come quickly and this will help deliveries run smoothly. 
At Eclipse Budz we strive to create an ongoing relationship with our customers. We offer free delivery within Kitchener and Waterloo, with an order minimum of ONLY $25! Delivery times range between 15 minutes to 2 hours, if you have not recieved your order within 2 hours of confirmation, please don't hesitate to give us a call. We test every strain we carry in house so we can offer the best recommedations for our customers. Eclipse Budz wants your input, if you have a strain of flower or other product you're interested in finding, or have enjoyed we want to know! New strains are available often. 
DELIVERY AREAS/FEES
Cambridge, St. Jacobs, Elmira, Conestogo, Bloomingdale, Rosendale, Breslau - $10 fee
Guelph, Platsville, New Hamburg - $15 fee
THERE IS A MINIMUM ORDER OF $50 AFTER DISCOUNTS FOR OUT OF AREA DELIVERIES.