Is the future of cannabis enjoyment waiting in outdoor public spaces?
Cannabis has been legal in Canada since October 2018; since legalization, many event spaces have started opening designated cannabis smoking areas where individuals can enjoy outdoor smoking while staying within the venue grounds. Permitted under the Smoke-Free Ontario Act, these designated outdoor areas at large events, festivals, and concerts are proactive in giving age-appropriate cannabis users a place for safe cannabis consumption.
In addition, these unique outdoor areas have taken note of secondhand smoke and were designed specifically for comfort and accessibility.
Even though some venues still do not allow cannabis, designated outdoor smoking areas are becoming the new norm. Grand Bizarre, located on the Exhibition grounds, has opened Ontario's first designated cannabis smoking lounge. Cannabis Carnival, a weekend-only event at Grand Bizarre, offers an enormous 600,000-square-foot outdoor smoking lounge designed mainly for cannabis users to utilize. This venue has taken a proactive approach in providing an accessible lounge 10 meters from any door. With no roof, it is entirely outdoor and open so that individuals don't feel claustrophobic. With a lack of dedicated smoking areas, many venues are adapting to the idea of having designated cannabis smoking areas. As time goes on, this idea will only become more popular.
Following Grand Bizarre, these outdoor cannabis smoking areas will most likely pop up at many more venues while meeting all necessary guidelines. Designated cannabis smoking areas improve safety for those who do not use cannabis while providing a space for enjoyment for anyone who wants to partake in smoking cannabis at a public event.
Celebrating the Cannabis Carnival smoking lounge, Grand Bizarre allows consumers to happily enjoy the benefits of fine outdoor dining on a massive patio with a separate designated area for cannabis consumption. This new designated area is cannabis-friendly, open-aired, and accessible to the public.
This one-of-a-kind space is the new and ideal way to eat, drink, and mingle while enjoying your favourite cannabis. There's nothing like it! Dedicated cannabis spaces at outdoor venues could become the norm as more businesses adapt to the open use of cannabis as it's been legal since 2018. This outdoor space negates the need for individuals to go back to their cars or hide behind a dumpster to smoke cannabis.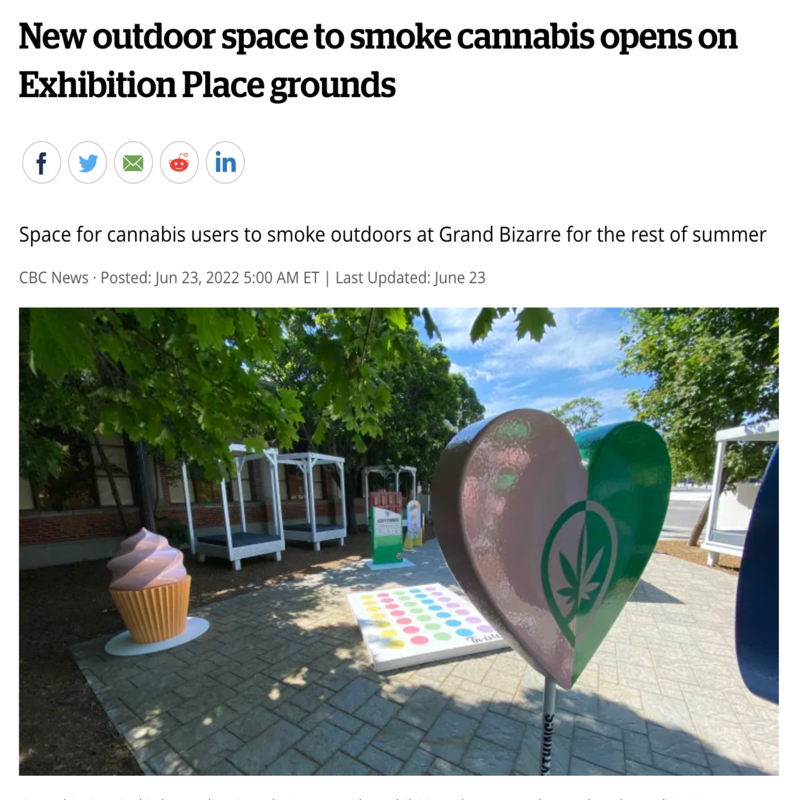 Restaurant patrons can now safely light up at the Grand Bizarre at Exhibition Place, with this impressive outdoor cannabis area that's 600,000 square feet. Created by restaurant president Zlatko Starkovski, there's nothing like it anywhere else in Ontario and is a proactive approach to uniting cannabis usage with fine dining. The Cannabis Carnival area is 10 meters from the nearest door and is designed for accessibility and enjoyment.
This is more than a new fad—diners and partiers can visit the carnival at Toronto's Exhibition Place with this fascinating new "bring your own bud" house policy. Many people know Grand Bizarre as the famous supper club, and this destination, which already includes gourmet cuisine, sunbathing, and swimming, now includes open-air cannabis consumption. Promoting safe and responsible cannabis consumption, Grand Bizarre has worked with several organizations to keep this area regulatory, educational, and secure under the Smoke-Free Ontario Act.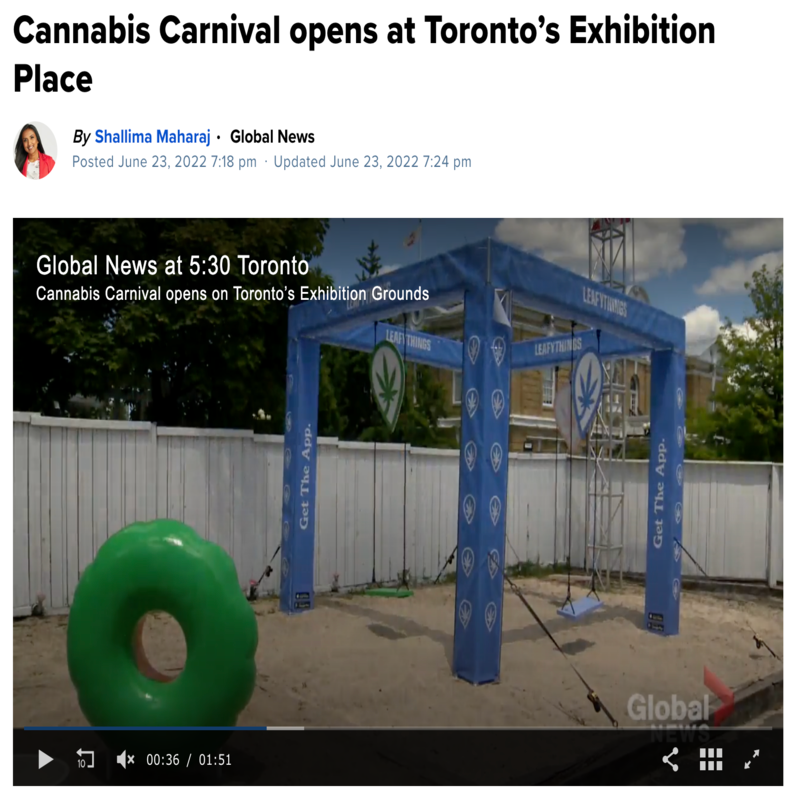 Enjoy Cannabis Safely
All this has been done with smoke-free patrons in mind, and there is plenty of space between the Cannabis Carnival and the other patrons on Exhibition Place grounds. As a result, the summertime event has been overwhelmingly positive and curbed any safety concerns that typically are held around the smoking of cannabis in public places. With a fenced-off area, educational guidance from Mothers Against Drunk Driving, and no alcohol served or allowed in the designated smoking area (increasing overall safety), Grand Bizarre has raised awareness about the safe consumption of cannabis while also providing exceptional service.