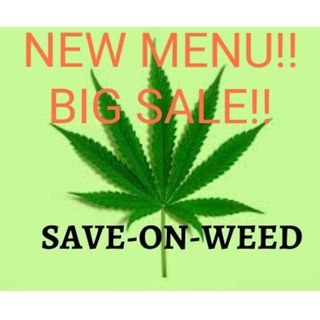 SAVE-ON-WEED
Delivery
Orders can be placed by:
Location / Hours
Mon:
8:00 AM - 11:00 PM - Open Now
* Hours of operation may vary by your location.
About Us
** FREE QUARTER FOR ANY ORDER OVER 200$ **
**FREE DELIVERY FOR ANY ORDER OVER 60$**
** CASH ONLY ** 
Here at save on weed we take pride in providing our customers with the best quality flower at the lowest prices possible. It is also a guarantee that our bags are ALL OVERWEIGHT. When you are ordering with save on weed, you will notice the quality in the flower and in the service. Very professional dispatch and drivers. 
We offer loyalty programs for all customers on order number 5 and 10 (free quarter) 
Please text us your order for the fastest reply. 
When texting your order please include the following : 
1. Delivery address 
2. Picture I.D with selfie
3. Your order 
******ALL DELIVERIES ARE SANITIZED BEFORE DELIVERY *******
Thank you for choosing Save on Weed. We look forward to serving you again.