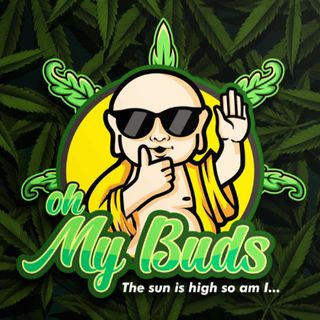 OHMYBUDS
Delivery
Orders can be placed by:
Location / Hours
WILLIAMS PARKWAY AND DIXIE RD
Brampton, ON
Tue:
11:00 AM - 10:00 PM - Open Now
* Hours of operation may vary by your location.
About Us
Welcome to OH MY BUDS! 
WE SERVICE IN :
BRADFORD / NEWMARKET / AURORA / VAUGHAN / WOODBRIDGE / RICHMOND HILL / SCARBOROUGH / MARKHAM / PICKERING / AJAX / ETOBICOKE / BRAMPTON / MISSISSAUGA
2 OZ = $200    
PICK 1 OZ FROM GROUP A  & 1 OZ FROM GROUP B 
GROUP A
INDICA
DEATH BUBBA  27% THC
HINDU KUSH  32% THC
MASTER KUSH  27% THC
PINK KUSH  28% THC
TOMFORD PINK  25%
WHITE TAHOE COOKIE 29%
SATIVA
ALASKA  28% THC
COMATOSE  28% THC
COSMAUNUT  32% THC
JACK HERE  27% THC
MAUI WOWIE  27% THC
BRUCE BANNER  27% THC
SUPER LEMON HAZE  27% THC
TROPICANA  27% THC
HYBRID
GOD GREEN CRACK  27% THC
LAMB BREATH  27% THC  
GIRL SCOUT COOKIE  28% THC
GREEN CRACK  27% THC
CHEESE CAKE  28% THC
GROUP B
BC KUSH 25% THC INDICA
KING KUSH 26% THC INDICA
SUPER KUSH 25% HYBRID
JAMACIAN DREAM  25% THC SATIVA
FIRE COOKIE  26% THC INDICA
--------------------------------------------------------------------------------------------------------------
MINIMUM ORDER $65
FREE DELIVERY
HOW TO ORDER
Please TEXT to OUR NUMBER:
1. Your FULL NAME
2. Your CONTACT NUMBER
3. FULL ADDRESS with CITY (ID for first time customer: SELFIE WITH ID).
4. Your ORDER. 
We will reply by TEXT with your order confirmation and time of delivery.
We will let you know 5-15mins before the driver arrives.
Please enjoy responsibly and leave us a review!
***You can pre-book with specific delivery time for your convenience!
CASH (Let driver know if you need change). EMT 
***Wait time will be around 30 mins to 2 hours depending on traffic, weather, voulme of orders or any unforseen incident. If wait time is longer than 2 hours, please do not hesitate to contact us. Thank you for your patient and understanding!
***YOUR OPINIONS ARE IMPORTANT TO US. PLEASE LET US KNOW HOW WE DID AND WHAT WE NEED TO WORK ON IN ORDER TO SERVE YOU BETTER. LEAVE US COMMENTS AND SUGGESTIONS TO LET US KNOW HOW YOU FEEL. THANK YOU FOR YOU BUSINESS AND ENJOY!
----------------------------------------------------------------------------------------------
marijuana, cannabis, medical marijuana, dispensary, marijuana legalization, dispensary near me, dispensaries near me, marijuana dispensary, dispensaries, medical marijuana card, mail order marijuana, mail order weed, MMPR, recreational cannabis, medical cannabis, THC, CBD, Canada cannabis, cannabis delivery, cannabis mail order