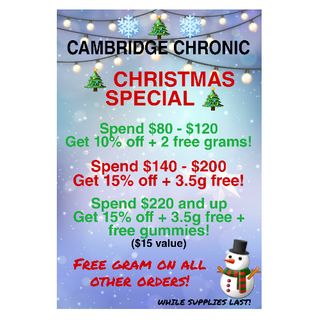 Cambridge Chronic
Delivery
Orders can be placed by:
Location / Hours
Hespeler road & Dunbar rd
Cambridge, ON
N1R6B3
Sat:
8:00 AM - 9:00 PM - Open Now
* Hours of operation may vary by your location.
About Us
Welcome to cambridge chronic! We look forward to becoming your #1 go to for quality cannabis with the fastest delivery times available.
HOW TO ORDER.
In one text message please include:
1. First and last name
2. Phone number where you can be reached at
Address as well as unit number if applicable
4. Your complete order.
When your order leaves the office you will receive an estimated time of arrival.
Please Note:
- You must be 19+ years of age. Identification will be required upon delivery.
- CASH ONLY. Please have exact change as drivers do not carry cash.
- There is a $5 delivery fee.
- There is a minimum order requirement of $30 not including delivery.
- There is no delivery fee for orders over $80
- No driver will enter a hotel/motel or meet in parks, on the side of the road, or in alleys.
- Drivers will always call from a private number upon arrival.
- If a drivers arrives and cannot make contact with you, and driver has to return, an additional fee of $5 will be applied. 
- No harr***ment of any kind will be tolerated.
- Due to "Canada sharing laws" no orders over 30 grams.
- You are paying for the packaging, handling, and delivery.
Thank you we look forward to serving you here at  Cambridge Chronic.