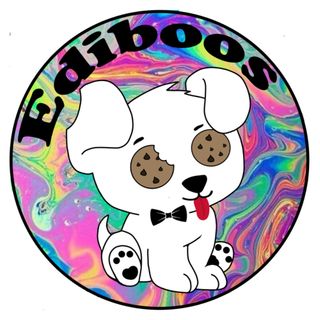 Ediboos
Delivery
Orders can be placed by:
Location / Hours
* Hours of operation may vary by your location.
About Us
It all started with one male plant.  By the end of the season we had more seedy weed than we knew what to do with.  Canna Butter sounded like a great way to both preserve and use the abundance of un-smokable bud.  I primarily used it to help me sleep and fight the symptoms of anxiety and depression, finding it both more tolerable and enjoyable than the pharmaceuticals prescribed to me.  Still, what to do with all of the excess?  I began making cookies and brownies for my family and friends, to their continuing pleasure!  These people became my first quality control group.Many heavier users praised the quality of our product after buying commercial treats and being underwhelmed by their affects.  They also frequently commented on the fact that these baked treats tased like, well, treats.  There was no bitterness or green aftertaste.  Thus the supreme quality product, "Ediboos" was born.  
Our calculations suggest there is no less than 100mg per unit in each of our items sold.  Depending on the end users tolerance and consumptions habits this can be a hefty dose, so we continue to reiterate, start small, perhaps with 1/2 doses if you are new to the world of edibles.
 The Business end of the mixing bowl
$55 minumum per order within the town of Peterborough.  Delivery on the outskirts of town will require a $10 delivery fee.
Minimum Age: 19+ and we will be asking for photo I.D.
Please be sure to give feedback if you enjoy our creations.  If you find our service lacking, contact us immediately so that we can be afforded the oppertunity to rectify any problems.
Please remember edibles are made from dexarboxylated materials and are harmful to animals.  Keep your crumbs contained on a plate or pick up and fallen product.