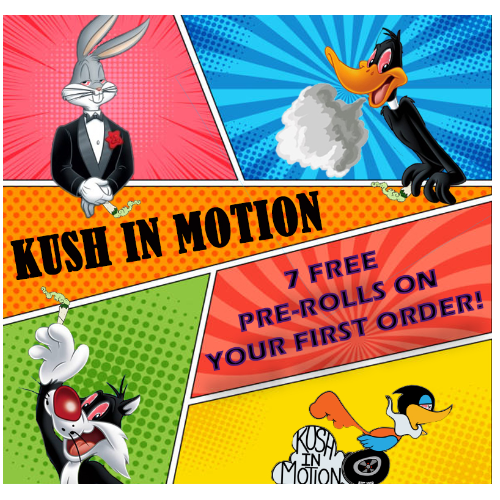 Kush In Motion
Delivery
Orders can be placed by:
Location / Hours
Sat:
11:00 AM - 9:30 PM - Open Now
* Hours of operation may vary by your location.
About Us
Kush In Motion only provides you with the highest quality premium flower.
ALL hand selected so we never disappoint. All our flower is ONLY West Coast Grown. We promise to continue to keep you happy with your favourite exotics, pinks and that sticky icky. We are happy to provide "Flavours for the Elite"
No delivery fee; minimum order amounts do apply to all locations.

Minimum orders vary depending on your exact location, minimum orders are based on km distance. 
INQUIRE WITHIN TO FIND YOUR AREA MINIMUM.
Listed below are rough estimates:
Downtown $40-$50
Etobicoke $60-$100
North York $80-$120
Mississauga - $100-140
Scarborough- $100-$140
Oakville - $120-$150
For further distances please inquire :)

*Delivery Times are approximately 1 to 3 hours* Delivery wait times will vary depending on volume of orders, road closures, traffic, weather etc. We will ALWAYS provide updates given any circumstance.
A dispatcher will be available to talk to you over the phone between 11:00am and 9:30pm. All inquires after 9:30pm please send via email. The phone lines are closed at 9:30pm
*We want to ensure every customer to leaves happy, so if you ever have any issues with an order please do not hesitate to contact us. We do not offer refunds, but we will surely work something out for you to ensure you leave a happy customer.
Call Today!!