It's that time of year again! It's Friday the 13th in Port Dover which means thousands of bikers will be attending the annual Motorcycle Rally! Since 1981, Port Dover has been a special place for motorcycle enthusiasts from all over the nation, as well as many coming in from the USA. Some go as far as renting out the many cottages or RV parking lots to rest before the big day, as it's not the easiest to find parking with over 30,000 members attending!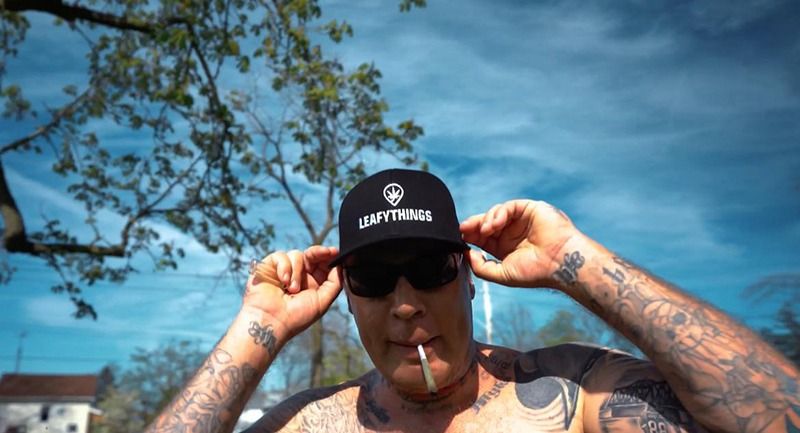 Last year Leafythings attended the rally as one of our first of MANY activations. We had a blast giving out free weed, free swag and endless photo-ops! This year, the Leafythings promo team just knew we had to be there, not only because the event is held on Friday the 13th every year, but because 2022 only has one Friday the 13th in its entirety!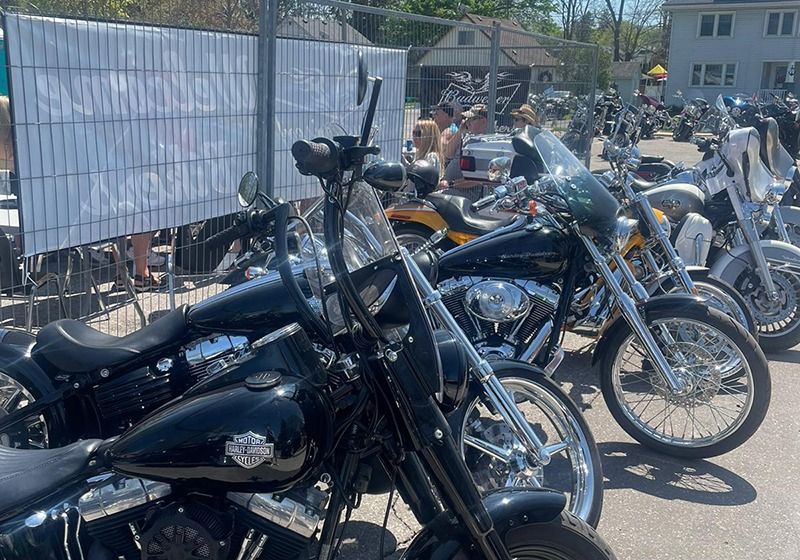 Let's go back to this day, shall we? It's one of the hottest days in May which means everyone is having a great time! The Leafythings team was actively giving away free edibles from our sponsors; House of Chronic, Herb Angels, Wesley Tea, and Purlic Pet to make it an even more enjoyable day! These edibles are potent and not for the weak, or in other words, perfect for a crowd of motorcycle enthusiasts!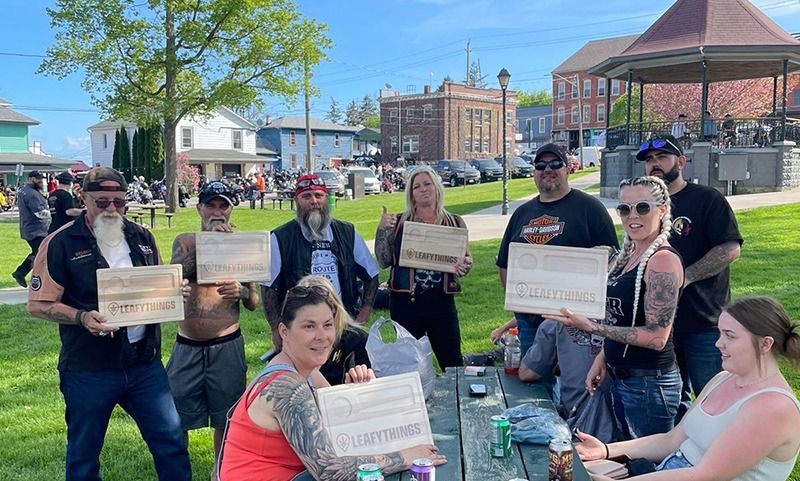 Looking back there was never a dull or quiet moment in Dover. Even with hundreds of motorcycles leaving, hundreds were coming in for the first time! Engines were revving, fringe was flowing in the wind, and cannabis smoke was filling the air. Life was good!
As Boco and myself walked around the crowd giving away freebies and asking if people have heard of Leafythings, we kept getting the same response! "Of course, we know Leafythings", as they show us the Leafythings app on their phones. "We saw you last year, we were waiting for you!" others said. We knew then that Leafythings was at home; This was the same place and the same event where we started to trend on Facebook, shoutout LeafythingsLounge! It was exciting to see that as the crowd typed in "Leafythings", our name was popping up right after typing the "Le"! It was safe to say that Leafythings truly changed the name of Port Dover to 'Pot' Dover.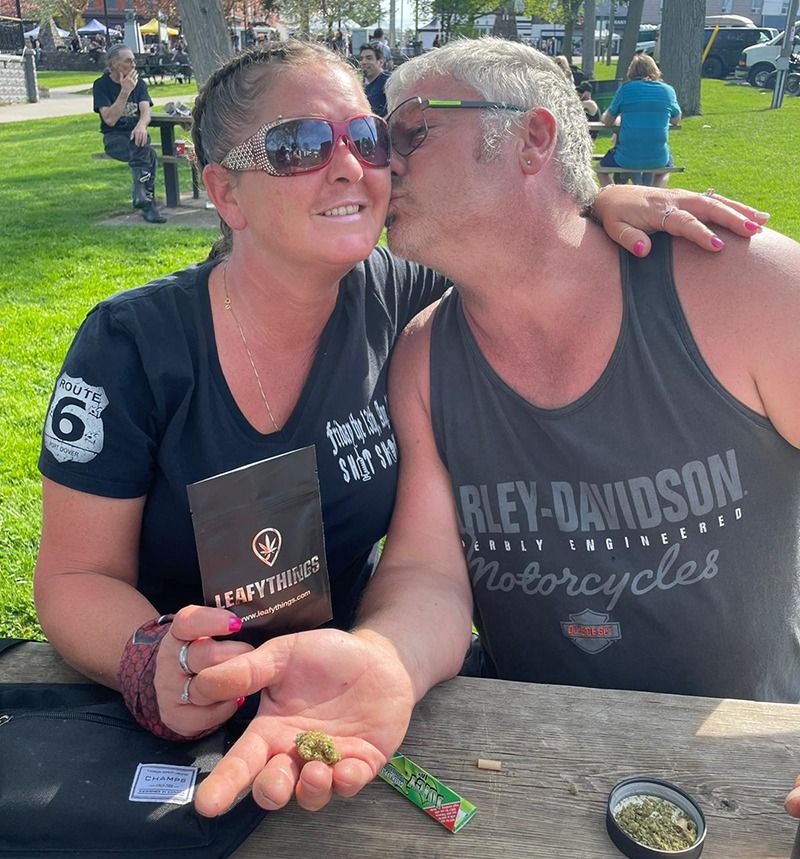 Throughout history and today, the motorcycle community faces many stigmas, and the Port Dover Biker Rally is one event that combats all stigmas in one. Similarly to the cannabis community, stigmas can only be harmful to people undeserving of it. So, it's Leafythings honour to celebrate the respective communities alike, and bring them together through free weed and good vibes! These big motorcycle lovers were the friendliest people we've encountered! It could be the 100mg Lollipops from House of Chronic we were giving out, or, just the spirit of Pot Dover! #sharingiscaring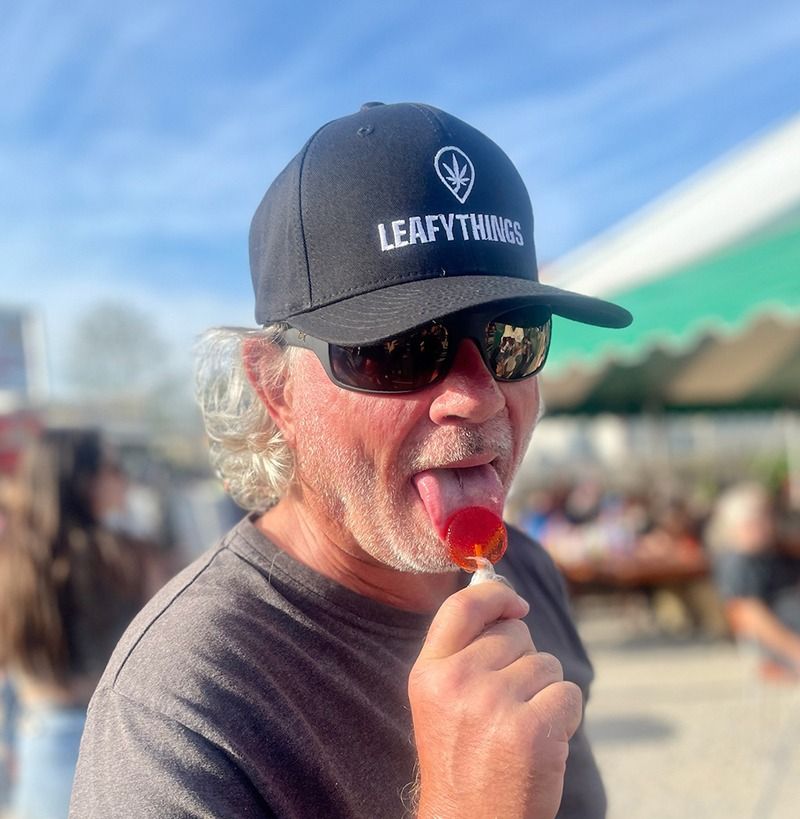 You can count on Leafythings being at next years annual Friday the 13th 'Pot Dover' with even more goodies and more experiences to make! Let's go 2023!
What happens when you give FREE Weed to 30,000+ Bikers at the Port Dover Biker Rally?
Watch Leafythings day in Dover!