As we return to normalcy with this pandemic, it is an excellent time to start putting together your stoner travel bucket list of destinations you MUST visit. After being cooped up for over a year, the wanderlust is strong in many of us; it's time to start imagining and preparing to experience a new destination and culture while high.
Don't you worry for even a second, as we have prepared a bucket list for you. We've made this a two-parter, North America and Worldwide. All the places listed below are cannabis-friendly environments meant for canna-tourists.
1)

Where: Vancouver, Canada
Strain to try: Mandarin Cookies
British Columbia is known for its lush greenery and having one of the largest cities in its province as a hub for cannabis culture; welcome to Vancouver. The city of Vancouver is named the Amsterdam of North America; you may hear some locals jokingly call it "Vansterdam."
The recreational use of cannabis has been legal across Canada since the end of 2018 (love this, yay us); however, you must be 19 years of age or older. Only then are you allowed to possess up to 30grams and smoke cannabis in any area where tobacco is permitted.
While in Vancouver, you must check out "High Score," a cannabis-friendly retro gaming bar fully equipped with a dab and vapor bar + retro arcade games along with a variety of events happening every so often. "The Cannabis Culture Lounge," located on Hastings St, is another spot that may be worth checking out. They offer a funky yet comfortable and safe hang-out space where you can relax with your herbs and learn anything and everything cannabis-related. Various enterprises within Vancouver offer safe, guided cannabis tours of the city as well.
The Vancouver area itself is an excellent destination for day trips and outdoor adventures. You are going to want to stock up on pre-rolls while you are on the go. "BC Bud" is one of the most sought after and popular growing regions globally, so there is no shortage of some of the most premium and perfectly grown and cured cannabis.
When shopping for cannabis, you know we have you covered; our Leafythings directory is all you will need to get some of the best herbs delivered right to you.
2) Where: Los Angeles, California
Strain to try: Blue Dream
Being one of the biggest and most populated cities in North America; LA has many 420-friendly activities, from cannabis lounges and tours to cannabis-infused restaurants; there is something for every canna-tourist.
You must be 21 years of age or older to purchase and consume cannabis recreationally. On the federal level, cannabis is still illegal to consume in any way, shape, or form, so the use of marijuana in a public setting is not permitted. Within the state only, you may possess up to 1 ounce (a maximum of 28.5grams) or 8grams of concentrate, no more; and smoke freely on private property.
There are many beautiful cannabis lounges located in West Hollywood. "Artist Tree," a dispensary/smoking lounge on Santa Monica Blvd close to the ever-famous Sunset Strip, is a must-visit location that offers a variety of cannabis products, all while also showcasing the work of some of the best artists in LA.
"Cannabis Café," on North La Bre Avenue, is another cannabis lounge and restaurant meshed into one (the dynamic duo, cannabis, and food, come together as one). An incredibly stunning spot that allows you to consume your bud of choice while serving you organic dishes to curb your ever-growing munchies. You may bring your bud or purchase some there; keep your debit or cash ready for purchases.
(Might be temporarily closed due to covid-19)
3)

Where: Portland, Oregon
Strain to try: Platinum Cake (Platinum OG x Wedding Cake)
Portland, Oregon, is known for its landscapes, culture, coffee beans, hops, and cannabis. Although there will be many places for you to purchase high-quality cannabis, one spot stands out the most that you do not want to miss. "Green Mile," a section of Sandy Blvd, that's known for having an array of cannabis dispensaries and companies.
While in Portland, be sure to check out "Juniper Hotel," located in the Buckham neighborhood. Juniper Hotel offers a variety of smoker-friendly stay packages for the avid toker. Another option for a cannabis-friendly location you could stay at is "The Doctors House," a cozy B&B (Bud and Breakfast) in the Alberta district. The host of this B&B is a cannabis expert, so think cannabis cocktails + edibles and tinctures.
Cannabis use is legal for anyone 21 and over, but it's not legal to smoke in public, so don't be puffing and passing as you're strolling down the street. Even though cannabis is legal in Portland, it is still illegal on the federal level (America), so dispensaries will be unable to process credit or debit transactions, so keep your ID and some cash ready for purchases.
Portlanders are no strangers to weed. Oregon was the first state to decriminalize cannabis possession (since 1973, you can tell the federal government has been dragging its feet on legalization). They were one of the first states to authorize medical access and recreational access. They did it through ballot voting measures, showing the popularity and support of Oregon residents for decades. Oregon cannabis activists have been the backbone of the United States cannabis legalization movement.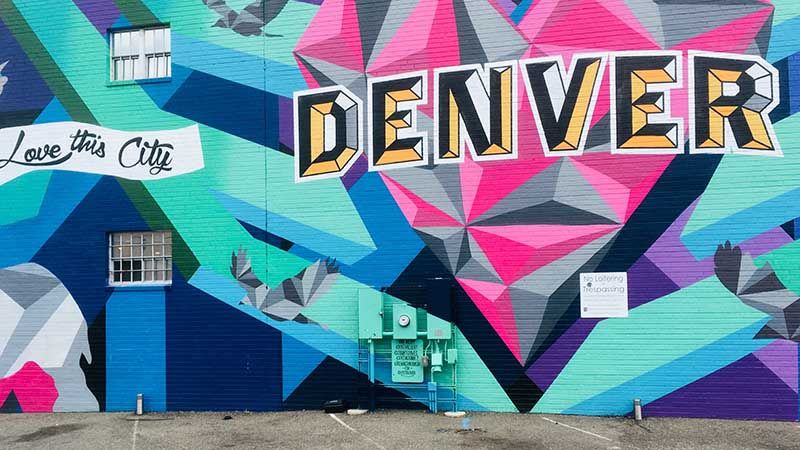 4)

Where: Denver, Colorado
Strain to try: Tropicana Cherry (Tropicana Cookies X Cherry Cookies)
Denver, well known for its Rocky Mountains, food, crafts breweries, and world-class cultural attractions has added cannabis tourism to its list of reasons why it makes for a top canna-tourist destination.
Named 'The Mile High City" (due to its official elevation being one mile above sea level), Colorado was one of the first states in the nation to legalize the recreational use of cannabis back in 2012. Like its sister states above (California and Oregon), all rules and laws surrounding cannabis remain the same in the state of Colorado.
Not all dispensaries in Colorado will offer you cannabis for sale for recreational purposes; most cater to individuals with a medical need; a phone call or quick google search prior to going may be wise.
"Colorado Cannabis Tours," offers private tours lead by cannabis experts. From grow tours, to glass blowing demonstrations, to hash/marijuana concentrate making tours that you're bound to learn from and enjoy immensely. And in case you don't know where you can find 420-friendly accommodations, reach out to the CCT as they will have the best spots curated for you.
If you are to visit any of these destinations during this covid-19 pandemic, please remember to be mindful of the individual rules and restrictions set in place. While archaic cannabis laws may still exist, the determined adventure stoner will always find a way around the rules and regulations of the reefer madness era.
No matter where you end up traveling to, the cannabis user modus operandi stays the same. Find good bud, roll one up, smoke, and relax. Take a moment to enjoy the travel memories you will be making while staying elevated.