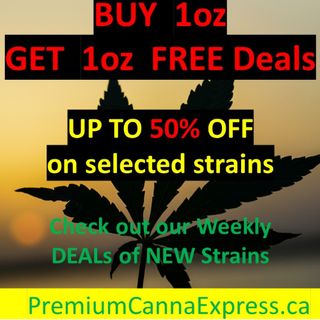 Premium Canna Express
Delivery
Orders can be placed by:
Location / Hours
Fri:
10:00 AM - 10:30 PM - Open Now
* Hours of operation may vary by your location.
About Us
*****SAME-DAY DELIVERY FOR REGION: WATERLOO, KITCHENER, CAMBRIDGE, and GUELPH*****
*****FREE DELIVERY ON ALL ORDERS (minimum $70+)*****
We are open for delivery from 10am to 10:30pm daily including weekends.
Order $100+ will get a FREE Pre-roll
Order $200+ can get two(2) FREE Pre-rolls or a FREE sample ($35 value)
Delivery will take approximately 30 minutes to 1.5 hours, depending on the traffic.
*****HOW TO PLACE AN ORDER*****
Please text or call (437) 929 8386 or visit www.premiumcannaexpress.ca
Please Including in your message following information:
1) Your Full Name
2) Your Contact Number (you can use this number as your ID to reorder next time)
3) Photo of your Government-issued ID (for new customers)
4) Address for Delivery
Once  you place your order, we will text or call you to confirm your ID.
Photo ID is required to ensure that you are 19+. We will NOT serve minors who are younger than 19 years of age in any circumstances!
*****WE ACCEPT BOTH CASH AND E-TRANFER, HOWEVER WE PREFER TO RECEIVE CASH UPON DELIVERY*****