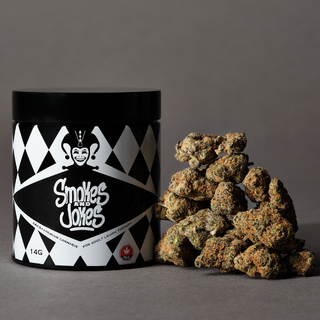 14g Smokes And Jokes Lot #1896
NO REVIEWS
Bulk Weed – Oz's and Half Oz's
Lab Testing
Cannabinoid and Terpene Testing
Description
With a name like Lot #1896, you know that you're in for a wild ride full of laughter, giggles, and the occasional snack. This little trickster is sure to leave you wanting more. When the Lot #1896 train rolls into the station, it's time to leave your baggage behind and hop on board for the ride of your life.
It's not every day that you encounter a strain like Lot #1896. If you have trouble unwinding at the end of the day, then it's time to get on board with Lot #1896. This sticky icky looking bud gets its name from the beautiful pink crystals that coat its trichomes. You may start off with clean fingers, but by the end of your session, you'll know why they call this Lot #1896.
Reviews
We currently have no reviews.
More by Smokes and Jokes
New York City, NY
Showing results closest to your selected region