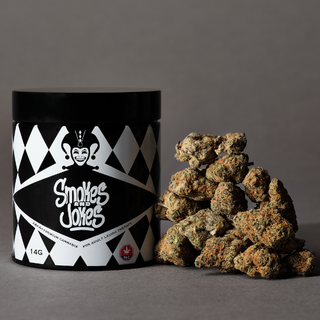 14g Smokes And Jokes Lot #2512
Description
Are you ready to head on down to sleepy town? If you have been searching for a relaxing and mellow high that will leave you couch-locked and slack-jawed, then Lot #2512 is ready to fulfill your wish. This indica dominant hybrid is definitely not for the inexperienced or faint of heart. It is recommended for anyone that is looking to relax and unwind without having to worry about any stress at all.
If you haven't heard of Lot #2512, you may have heard of one of its famous parents, GMO Cookies and Legend OG. Cannabis enthusiasts from around the world will recognize the lineage of this delectable super bud.
Reviews
We currently have no reviews.