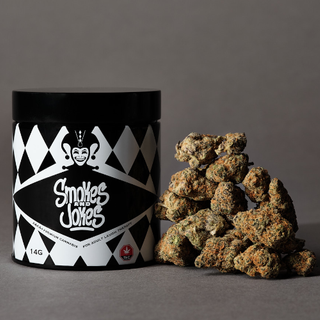 14g Smokes And Jokes Lot #1481
Description
If you have been searching for the OG of indica strains, then look no further than the father of them all, Lot #1481! This heavy-hitting indica strain is going to leave you couch-locked and wishing you'd invested a few more dollars in Doritos before settling in for the night.
Lot #1481 is an indica dominant hybrid strain that shares its history with some well-known parents, including Face Off OG, SFV OG, and the granddaddy of all OG Kush. It's hard to argue with such a stellar line up like that.
When you've had a rough day, and you're looking for a strain that absolutely blows your mind and leaves you ready to relax and laugh while watching a movie, Lot #1481 is where it's at. There is no time for worrying about what life has in store for you tomorrow when you strap on your favourite sweatpants and settle in for a night with Lot #1481.
Reviews
We currently have no reviews.