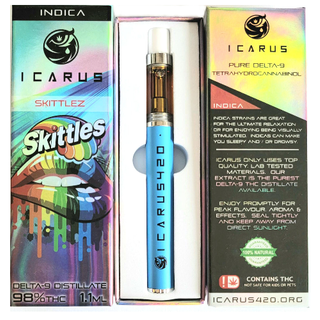 Icarus420: 1.1ml Delta-9 Distillate Vape Pens
Concentrate Type
Distillate
Description
The new batteries on these Icarus420 disposable vape pens will never fail before your cartridge is empty and do not heat up as much as some others. All the distillate is made with premium flower and using Delta-9 method extracted the cleanest possible way to ensure you are getting the maximum THC level (98%) along with all the terpenes for the perfect taste and aroma. Contains Zero PG and Zero Alcohol. No solvents are used in production to derive the D-9 THC distillate making the whole process as natural as possible. Twist the gold plate at the bottom of the pen to access the charge port. USB charging cord not included. Each order comes with 1 vape pen, It's filled with 1.1 Gram THC distillate.
[MIX & MATCH] All Major League Extractions, Pegasus 420 & Icarus Premium Distillate Pens. Buy 5 - 9 : Get 5% OFF Buy 10 - 14 : Get 10% OFF Buy 15+ : Get 15% OFF


⭐Discount Applied in Cart⭐
Reviews
We currently have no reviews.