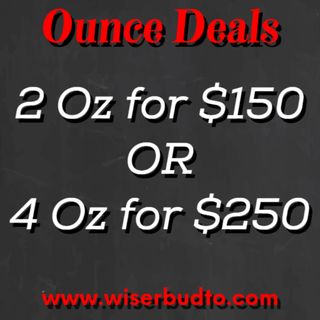 WiserBudto - Scarborough
Delivery
Orders can be placed by:
Location / Hours
* Hours of operation may vary by your location.
About Us
15% Discount for Customer who subscirbe https://wiserbudto.com
---
---
Wiserbud can offer multiple different type of strains with better Quality and Price, Update Menu Monthly
Shake Oz
$45 Purple Diamond AAA
$65 Death Bubba AAAA
$85 Pink Rockstar - Premium 
$90 Oz NEW!!!  
Granddaddy Purple - Indica 
Lemon Garlic OG - Hybrid 
Triangle OG
Pineapple Express
$110 Oz
Blue Cheese - Hybrid
Sour diesel - Indica 
God bud - Hybrid
Nuken - Hybrid
$120 Oz
Tom ford
$130 Oz
Gelato - Hybrid 
Island Pink - Indica
Black God Fruit - Hybrid - 1/2 oz left 
bubba Kush
$140 Oz
Death Bubba - Indica 
Rockstar OG 
$150 Oz 
EL Diablo - Hybird
Gorilla Cookie - Hybrid
Rockstar Tuna - Hybrid 
Pink Anxiety - Indica 
Pink Sapphire - Hybrid Indica 
$210
Pink VVS - Indica
$225
Pink Power - Indica 
Pink Biscotti - AAAA+ Indica 
$250 AAAA+ 
The White Angel - Hybrid 
Wedding Gelato - Hybrid 
$260 AAAA+ 
Island Death Bubba - Indica 
---
To place an order with us
Contact (437) 833-8567 OR send an email to WiserBudto@gmail.com
To verify your age, send us a photo of your driver's licence. 
Complete address for delivery
Order details. Let us know what you would like!
Cash or E-transfer payments accepted.
Leave a 5* review and receive 500mg gummies on your next purchase order
---
= POLICY=
Refund on packages are not open and seal as it.
Rufund and Exchanges will charge a $15 Delivery
Minimum purchase order of $50 plus $15 delivery fee.
Order over $250, receive a free 500mg gummies
---
---