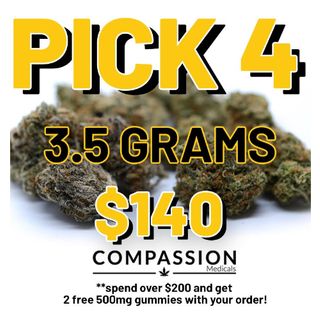 Compassion Medicals
Delivery
Orders can be placed by:
Location / Hours
Tue:
10:00 AM - 9:00 PM - Open Now
* Hours of operation may vary by your location.
About Us
COVID-19 NEW HOURS: We are open from 10am-9pm during lockdown period
NEW CUSTOMERS 
All new customers who spend $100+ get 15% off and a free 3.5g of your choice!
ORDER BY WEBSITE:
All new customers can order on our website by visiting www.shopcompassionmedicals.com and making an account. Once your account is made, we will contact you to verify you are over the age of 19 and you are good to go! BY ordering on our website, you will receive COMPASSION POINTS on every purchase which can be redeemed for cash towards your next purchase. Also by ordering online, you are ensuring that you receive the best price of the day, and are eligible for current promotions. 
ORDER BY TEXT:
All new customers can order by texting 905 243 1846 the following:
1. Picture of your photo ID (must be 19+)
2. Your Name
3. Your Address (If address on card is different to delivery address, we require proof of delivery address via piece of mail, recent utility bill, etc. 
4. Your ORDER (include order specifics such as unit # , side door, back door , etc)
DELIVERY FEES:
WHITBY: $5 on orders under $100, FREE OVER $100
METHODS OF PAYMENT:
Cash or EMT
ABOUT US:
Born in 2017, the beginning of the delivery app era, Compassion Medicals has always put customer satisfaction at the top of our priority list. For the last 4 years, Our goal has always been to provide top-notch product and top-notch service to all of our new and existing customers alike. As we progress into legalization, we strive to continue to provide top-notch service while ensuring quality and consistency across the board. From our 5 star Flower Selections from our Craft Cultivators in B.C, our extensive Import Hash Selections, to our concentrates and topicals, we take great pride in the product we sell and are constantly on our best game when it comes to having the competitve edge in this industry. Take advantage of our current promotions by visiting our website www.shopcompassionmedicals.com. Every dollar you spend you receive 1 compassion point, which can be redeemed on future purchases!