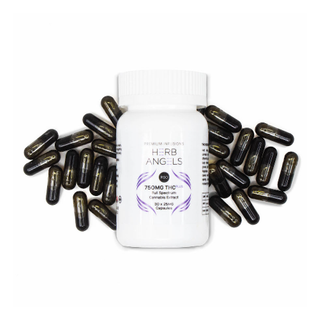 THC PLUS (made with RSO) 750mg (30x25mg) Capsules
Strain Type
Ratios of CBD / THC
Description
Unlock the Power of 25MG THCPLUS
Are you seeking a balanced, full-spectrum cannabis extract that's both effective and consistent? Look no further!
✨ Key Features:
Premium Full-Spectrum Extract: Experience the full bouquet of cannabinoids.
Lab-Tested Quality: Trust in Herb Angels' commitment to excellence.
Enhanced Entourage Effect: Synergy of THC, CBD, terpenes, and more.
Precise Dosage: Every capsule delivers a consistent experience.
Pure Potent Euphoria: A journey of wellness and joy.
Why Choose 25MG THCPLUS Capsules?
Organic Hemp Oil: Pure, natural, and responsibly sourced.
Mid-Potency: Ideal for those seeking balance and harmony.
Full-Spectrum Bliss: Discover the richness of the cannabis plant.
🌟 Experience the Entourage Effect!
Explore the world of full-spectrum cannabis with Herb Angels and embark on a journey to euphoric wellness.
Directions for Use:
Take one capsule as needed.
Enjoy the full-spectrum experience responsibly.
Disclaimer: This product is intended for adults and should be used responsibly. Consult with a healthcare professional if you have any medical concerns.
Reviews
We currently have no reviews.