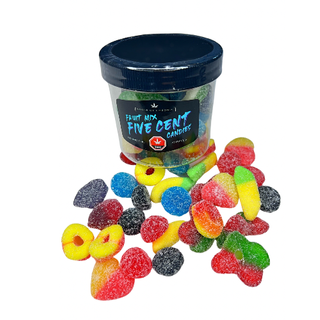 1500MG Fruit Five Cent Party Mix
Description
One of our top sellers is the Five Cent Candys! True to dose, Fruit Mix Five Cent are all your fave Five Cent Fruits that pack a punch with 50MG of THC Distillate in each piece! Sugared with a THC infused sugar.
50MG x 30 Five Cent Fruits = 1500MG

Ingredients: Corn Syrup, Sugar, Sorbitol, Citric Acid, D9 Distillate, Coloring & Natural Flavor.
Reviews
Tried these and they have helped me get off my sleep medication! I recommend you try them too.
Where to Buy Our Products