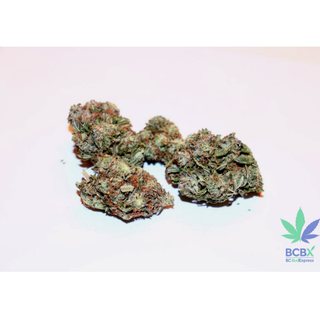 Description
Blue God is a powerful Indica-dominant hybrid with strong sedative effects. Mothered by God Bud and Blueberry, the effects of this strain are mostly physical with a calming body buzz that takes you deep into the void of your couch. Blue God's THC levels reach a heavenly high around 20%, indicating a potent strain combined with berry and earthy flavour.
The nugs of Blue God are dark purple and sticky and emits a dank, earthy aroma with some scent that closely resembles grapes. The initial smoke may be too harsh as it expands quickly, inducing coughing; but it does not have the hashy acrid taste like other heavy Indicas. Blue God is often used to treat chronic pain, anxiety, stress, and insomnia. The refreshing blue raspberry tang adds to the calming experience that after some puffs, you can get a good, well-deserved break from the tension of the day.
Reviews
Amazing!! The buds are perfect and flavour packed!
Bronson Kelloway, 1 year ago
More by BC BUD XPRESS - BCBX $20 OFF FIRST PURCHASE