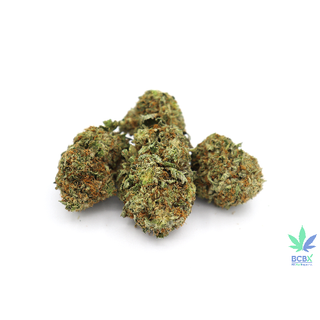 Description
Purple Rockstar Kush is a rare indica dominant hybrid strain created through crossing the classic OG Kush X BC Rockstar strains. Known for its gorgeous appearance, this bud packs timeless indica-dominant effects and a long-lasting high that's perfect for anyone who just wants to kick back. Purple Rockstar Kush buds have fluffy popcorn-shaped olive green nugs with beautiful purple undertones, dark amber hairs, and coating of matching amber crystal trichomes that are super sticky. The Purple Rockstar Kush high has a super strong euphoric onset that slams into your brain, launching you into a happy state of bliss that's unfocused and super creative. You'll feel a heavy body high come next that fills your entire physical form with a sense of deep relaxation and ease. With these effects and its high 33% average THC level, Purple Rockstar Kush is often chosen to treat conditions such as depression, chronic fatigue, stress, chronic pain, and headaches or migraines.
Reviews
To Legit to Quit. Coming back for more. 👍 Love the Variety.
tracystyres@yahoo.com, 3 months ago
Wow!! Buds are like the pics show, nice smell and taste with this one. One of my favorite purps. BCBX is my new favourite ...
Read more
More by BC BUD XPRESS - BCBX $20 OFF FIRST PURCHASE