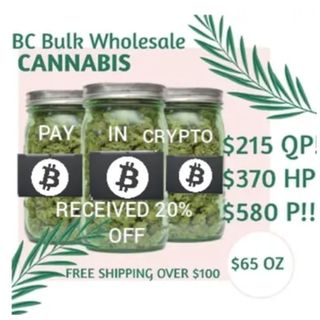 BC BULK WHOLESALE CANADA
Mail Order
Orders can be placed by:
About Us
***SALE AAA OZ FOR $65 QP FOR $240 HP FOR $400 P FOR $680 $6500 FOR 10Ps ****
***AAAA STRAINS AND AAAAA STRAINS AVAILABLE!!!!!***
BC Bulk provides offers cannabis at the lowest price with the highest quality possible. All of our strains are test by our professional staff to keep products at high standards.  You can find Mix and Match Deals in our deals category. This works great for consumers because you won't be tired of just having to smoke one strains for a period of time. Free shipping on orders over $100.
HOW TO ORDER
To order please contact us by text or email at bcbulkcanada@gmail.com or and details of your order and than send an email transfer to bcbulkcanada@gmail.com.
Orders are shipped by Canada Post Xpresspost and a tracking number will be emailed after your order ships.
Free shipping for all orders over $100, orders under $100 shipping cost is $10 - $20 depending on province 
You will receive your order in 2-4 business days. Please allow an extra couple of business days if you live in a remote area.
Your delivery is guaranteed (except for residents of Yukon, Nunavut, Northern Quebec or if you provide an inaccurate/incomplete address).
WE ARE NOT LIABLE FOR RETURNED MAIL DUE TO INCORRECT/INCOMPLETE ADDRESS (NO REFUNDS)
Orders shipped during holidays may face slight delays with your shipment
***MINIMUM PURCHASE ORDER =$30.00*** 
**E-Transfer
***Quickest response is through text! 
Thank you for shopping with BC Bulk!, we hope you have a great day and enjoy!!