Description
Doja 91K is a high THC indica strain bred from the Chemdawg '91 crossed with the popular Captain Krypt OG. Together this lineage creates a strain that emits a deep, dank terpene profile that includes caryophyllene and limonene. These medium-sized buds have a pungent, classic earthy smell, with distinct floral and musky undertones.
Sudbury, ON
Showing results in nearest to selected region
Where to Buy This Product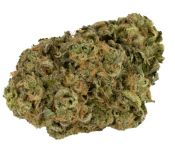 Reviews
We currently have no reviews.
More by Highlife Cannabis Co
Sudbury, ON
Showing results in nearest to selected region