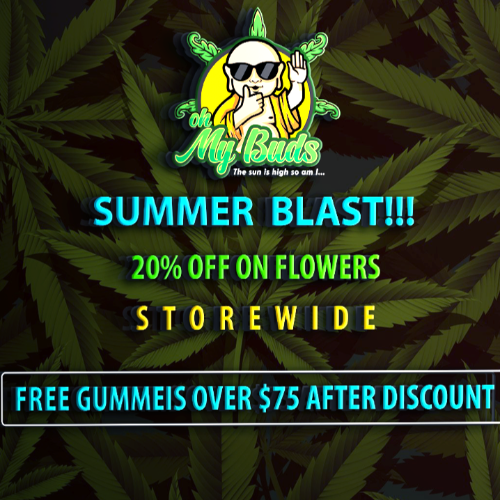 OH MY BUDS
Delivery
Orders can be placed by:
Location / Hours
Wed:
11:00 AM - 10:00 PM - Open Now
* Hours of operation may vary by your location.
About Us
Welcome to OH MY BUDS! We are here to provide recreational/medical cannabis to your community with the best products and pricing in a friendly and professional environment. We are always happy to share our products with you by giving free sample to every oz ordered. Our promotion and deals will always benefit you! 
As a loyal customer, we reward you with:
1/4 oz (up to $70 value of regular price) FREE on your 6th order (purchase necessary).
HOW TO ORDER
Please TEXT to OUR NUMBER:
1. Your FULL NAME
2. Your CONTACT NUMBER
3. FULL ADDRESS with CITY (ID for first time customer: SELFIE WITH ID).
4. Your ORDER. 
We will reply by TEXT with your order confirmation and time of delivery.
We will let you know 5-15mins before the driver arrives.
Please enjoy responsibly and leave us a review!
***You can pre-book with specific delivery time for your convenience!
CASH (Let driver know if you need change). EMT ACCEPTED
MINIMUM $65
***Wait time will be around 30 mins to 2 hours depending on traffic, weather, voulme of orders or any unforseen incident. If wait time is longer than 2 hours, please do not hesitate to contact us. Thank you for your patient and understanding!
***YOUR OPINIONS ARE IMPORTANT TO US. PLEASE LET US KNOW HOW WE DID AND WHAT WE NEED TO WORK ON IN ORDER TO SERVE YOU BETTER. LEAVE US COMMENTS AND SUGGESTIONS TO LET US KNOW HOW YOU FEEL. THANK YOU FOR YOU BUSINESS AND ENJOY!
----------------------------------------------------------------------------------------------
marijuana, cannabis, medical marijuana, dispensary, marijuana legalization, dispensary near me, dispensaries near me, marijuana dispensary, dispensaries, medical marijuana card, mail order marijuana, mail order weed, MMPR, recreational cannabis, medical cannabis, THC, CBD, Canada cannabis, cannabis delivery, cannabis mail order