Canada has helped spread awareness of the cannabis plant's many benefits, including those associated with the use of cannabis oil.
However, there's some confusion around this cannabis derivative and how it can be used for medical and recreational purposes.
This article will introduce you to the world of cannabis oil and offer some insight into its various types, uses, benefits, and more.
Cannabis Oil Basics
Cannabis oil or CBD oil, as it's colloquially known, is a combination of a CBD- and/or THC-rich extract from the cannabis plant and a plant-based or vegetable oil, such as olive, granola, grape seed, or hemp seed oil.
While most consumers refer to it as CBD oil, there's a huge difference between THC- and CBD- rich cannabis oil. Namely, CBD is usually associated with treating a number of medical conditions and, unlike THC, doesn't have intoxicating effects. It's usually sold in capsule form or as a tincture.
Conversely, THC oil has intoxicating effects, and besides its medical benefits, it also provides its users with the feelings of euphoria. THC-rich oils come in various forms, but the most common ones include solids (dabs), capsules, and tinctures.
Types of CBD Oil
Most medical cannabis products won't get you high as they contain lower amounts of THC compared to products aimed at recreational users. However, this will usually depend on the type of oil and vendor.
There are three main types of cannabis oil consumers should know about:
Full-spectrum CBD —

contains all of the compounds of the source plant, including THC, CBD, and other cannabinoids and terpenes
Broad-spectrum CBD —

contains many of the compounds produced by its source plant, except THC
CBD isolate —

contains only CBD and no other compounds.
Cannabis oil can be made both from industrial hemp or traditional cannabis. Hemp-derived products contain almost insignificant amounts of THC and therefore are more readily available to consumers. However, they are far less potent.
Fortunately, there are plenty of sellers out there offering full-spectrum CBD oil used both for recreational and health-related purposes. You can find full- and broad- spectrum CBD oil online or at your local retailer.
How to Use Cannabis Oil
Cannabis oil can help alleviate symptoms of a multitude of illnesses, and it can be used recreationally, too. That's why many consumers are wondering how to ingest cannabis oil properly. The method of consumption varies from person to person, and it's based on individual needs and preferences.
The main difference between medical and recreational cannabis oil is in the amount of THC present in the source plant. Medical CBD oil has lower amounts of THC because the compound is more likely to cause undesired side effects. The methods of consumption between the two also may differ.
Doctors Advise Against Smoking Medical CBD
So how do you take medical cannabis oil, anyway? There are various ways, and some overlap with those of recreational users. You can ingest the oil by mixing it into food or drink, using a pipette or a dropper, swallowing capsules, spraying it under the tongue, etc.
Most doctors will prescribe cannabis oil to their patients rather than dried cannabis, because it's more convenient for dosing. Also, smoking can potentially cause more harm than good due to the harmful combustion process.
Vaping and Dabbing
Some of you may be wondering, "Can I smoke cannabis oil recreationally?" The answer is yes, you can smoke it in the form of CBD vape oil, which refers to either vape juice used in e-cigarettes or pre-filled cartridges that attach to vape batteries.
You can also use dabbable CBD oil (CBD-rich hash oil, rosin, live resins, etc.) in a vaporization process called "dabbing," which is not recommended for beginner users due to the intensity of its effects.
Using Cannabis Oil to Make Edibles
Edibles are another way to ingest cannabis oil. The effects will be stronger and will last longer. You can add CBD oil to no-bake recipes or ones that require low heat, so as to preserve terpenes and cannabinoids.
You can make chocolates, no-bake cookies, frostings, add cannabis infused oil to your meals, or spread it on bread like butter.
Cannabis Oil Benefits
Multiple studies have proven that CBD oil can be used in the treatment of several different conditions, including:
anxiety

depression

epilepsy

PTSD

opioid addiction

ALS

chronic pain

diabetic complications

neurological disease

arthritis

etc.
Since 2005, Canadian doctors have been using cannabis oil for pain management in patients with multiple sclerosis and cancer. In the US, studies have shown that CBD oil can be used for relieving non-cancer related pain, specifically in patients with symptomatic peripheral neuropathy.
How to Purchase Cannabis Oil in Canada
You may be wondering, "Is cannabis oil illegal?," and you'll be pleased to know that it's perfectly legal across Canada. Since CBD oil is regulated under the Cannabis Act, it's treated exactly the same as cannabis, regardless of its THC content.
You can buy it from a wide variety of retailers and delivery services, or purchase CBD oil online, or in dispensaries. The cost of CBD oil varies across different brands and typically ranges between $0.5–$0.20 per milligram of CBD.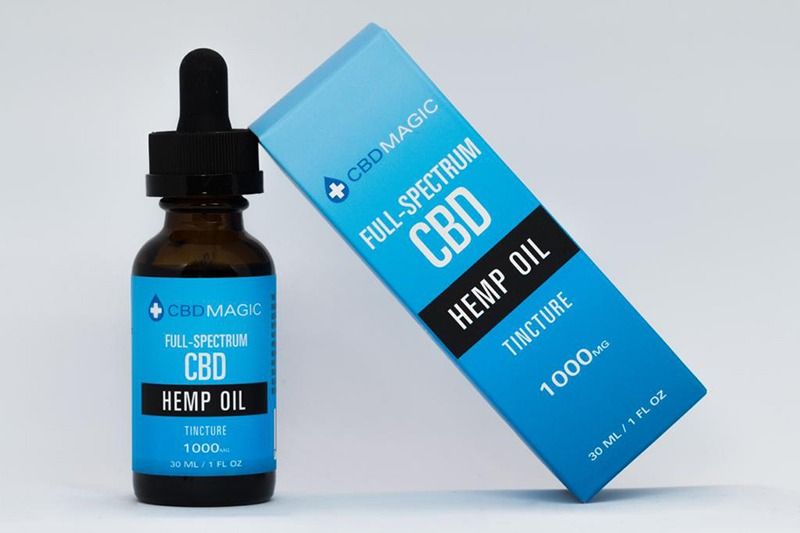 If you're searching for a brand you can trust for your CBD oil, look no further. One of our favourite brands of CBD products here at Leafythings is CBD Magic, the perfect place to find what you've been looking for when it comes to cannabis oil. Whether you're looking for tinctures, edibles, creams, capsules, or vapes, CBD Magic has got you covered, offering a range of quality products, along with Full-Spectrum, Broad Spectrum, water soluble, and CBD isolate oils.
Looking for a stronger than average dose, but don't have much experience? Try a Full Spectrum CBD Hemp Oil Tincture, an organic, 100% natural solution perfect for enhancing your focus and relaxation, as well as alleviating any pain. It contains less than 0.3% THC, allowing you to reap the desired effects of your CBD oil; while this amount is incredibly low, users who prefer their CBD oil to be completely free of THC can also look to the equally effective CBD2Heal Pure CBD Oil Tincture which contains 0% THC. As some of CBD Magic's best-selling and top-rated products, these tinctures are ideal for anybody with an interest in CBD oil.
Another one of CBD Magic's top selling CBD oil products are the organic, Canadian-made Zen Leafs Gummies for Sleep. These edibles can help you achieve your dream of restful, healthy nights of sleep, and are infused with a low dose of Melatonin to enhance their effects. They also contain 0% THC content, allowing you to relax and drift off without worrying about any unwanted effects. CBD Magic even offers Full Spectrum CBD Hemp Oil for Pets, a vegan, lab-tested product for your best friend that can help them with any pain and sleep problems they might be having. On top of these benefits, this oil is bacon flavoured as a treat!
Conclusion
There are different kinds of cannabis oil, including full-spectrum CBD, broad-spectrum CBD, and hemp oil. Depending on your needs, you can use it to treat symptoms of various medical conditions, or just to relax and have fun.
Now, there are numerous studies proving its various health benefits, which is why an increasing number of doctors prescribe it to their patients.
You can purchase cannabis oil in Canada, both online and in stores.