Statistics Canada recently released the latest numbers concerning the sales of legal cannabis in the country's largest cities and the results might surprise you. The adult-use cannabis sales per city were influenced by many factors such as the ongoing pandemic we found ourselves in earlier last year, some new retail shops opening and the regulation on the minimum age required to purchase cannabis in Quebec raised in the province may have affected directly it's sales.
The number of stores in each big metropolis of the country was in direct correlation with higher sales overall. The more stores opened, the better the sales got each month. As the public perception grows more and more favourably towards cannabis use and its benefits, we can expect the numbers to continue on this uptrend as we continue forward in this new era of legalized recreational marijuana in Canada.
As shown below, the monthly sales versus the store count graph can give us a good insight as to why it is a good thing economically and socially responsible to continue to grant new licenses for companies wishing to open retail stores across the country giving access to many more Canadians willing to purchase their cannabis products from licensed retailers.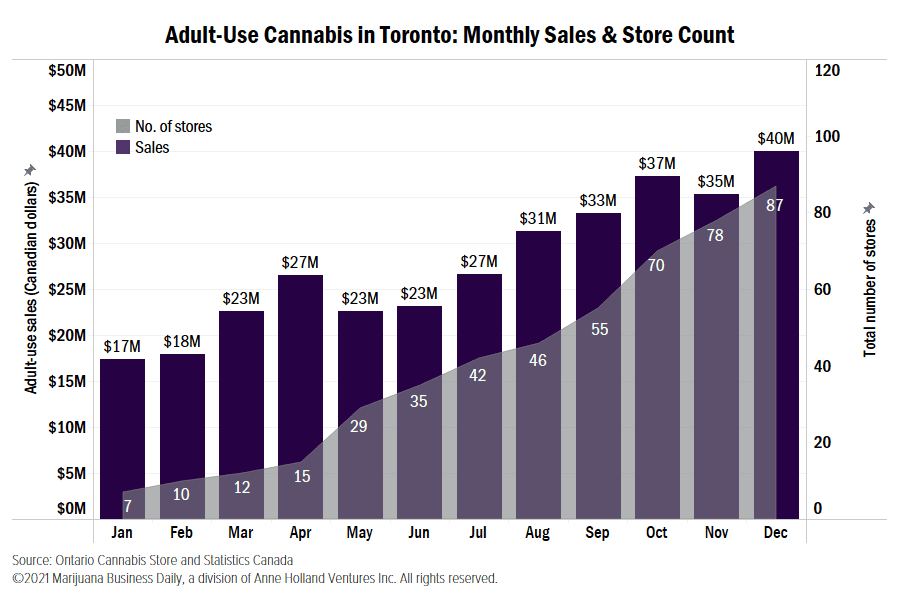 The illegal cannabis market is still going strong in some provinces partly as a consequence of the industrialized growing enterprises methods resulting in lesser quality products in some cases, the higher prices found in the licensed retailers still deter lots of weed smokers who will favour the price found on the illegal markets.
Krista Raymer, co-founder of cannabis retail consultancy Vetrina Group based out of Toronto said that licensed retailers will need to use everything in their power to bring the regulars from illicit market customers into the retail stores.
"If you're going to be in any of these cities, you as a retailer are facing a requirement to be more specific and drill into a customer base. Simply being a cannabis store isn't good enough anymore," she said.
"You have to have a unique selling proposition and an opportunity to create relationships with customers, but also the inventory to support that."
Vancouver: CA$105.6 million in sales for CA$38.57 per capita. Population of 2,379,973
Gatineau: CA$ 13.9 million in sales for CA$39.86 per capita. Population of 302,334
Montreal: CA$216.2 million in sales for CA$49.53 per capita. Population of 4,098,927
Toronto: CA$334 million in sales for CA$50.95 per capita. Population of 6,417,526
Ottawa: CA$74.8 million in sales for CA$67.28 per capita. Population of 934,243
Quebec City: CA$67.9 million in sales for CA$81.60 per capita. Population of 532,505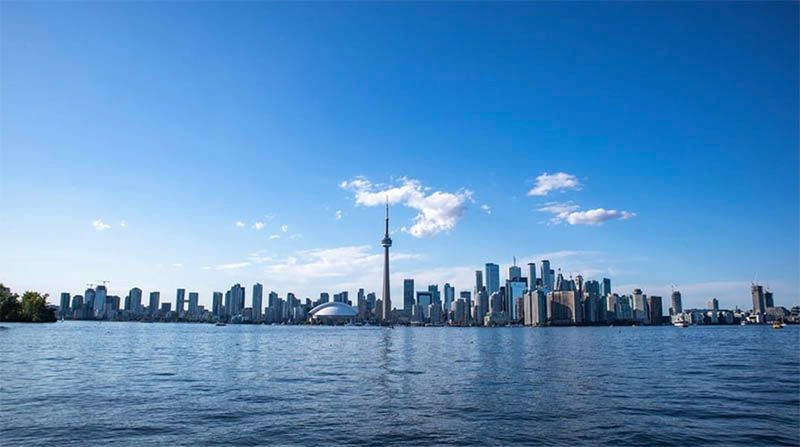 Toronto
Ontario's biggest and most populous city comes out on top with the most legal cannabis sales out of any Canadian city with CA$39 million in January 2021 for a total of CA$334 million in 2020. Largely due to its large population, Toronto was able to pull the biggest sales number of the year 2020 in the country but when it comes to sales per capita in Canada's nine largest cities, it fell way down the rankings placing 6th out of 9. In February 2020, the sales were CA$17.9 million and gain over a 25% increase in March 2020 with CA$22.6 million and another 17% increase to April 2020 with CA$26.5 million. This jump in sales can be largely attributed to the rapidly rising numbers of licensed retailers throughout the year and the pandemic effect on consumers wanting to stock up on cannabis products when the country started to go into covid-19 lockdown. Toronto started the year 2020 with seven cannabis stores and ended the same year with 87 licensed retailers providing access to a much broader range of the population in the metropolitan area.
Toronto Dispensaries can be found here
Montreal
The culturally rich city came second in the country on the total sales of cannabis products with CA$217 million in the year 2020. Montreal is an island where just under 2 million cohabits, but the metropolitan area of the city is rather large with over 4 million inhabitants, nonetheless much smaller compared to the Greater Toronto Area. The Covid-19 lockdown frenzy seemed to have started a bit earlier for Montrealers as the toilet papers stock grew slim very rapidly and so was the cannabis stock in retail stores. From February to March 2020, the sales rose from CA$11.9 million to CA$20 million, a 61% increase. This increase slowed down in April as most citizens of the province were confined inside their homes, so sales finished at CA$ 21.5 million for the fourth month of the year.
More information for Montrealers here
Vancouver
It's no secret British Columbia's coastal city of Vancouver has been ground-zero for Canada's cannabis industry since the early 2000s. The illicit market of cannabis is still going strong in the province even years after the legalization of cannabis, proved by some of the numbers observed in the documents Statistics Canada revealed earlier this year.
"The numbers suggest that a lot of folks in B.C. are still shopping in illicit stores or purchasing in the illicit market," said Lucas McCann, a former Health Canada employee who now works for CannDelta, a Toronto cannabis licence consulting agency.
A lower amount per capita is a direct result of the bulk of the cannabis customers in Vancouver still using the illicit market to purchase their marijuana products, as observed in British Columbia right now.
In June of 2020, over CA$200 million of cannabis related-products was purchased in the whole country, with British Columbia accounting for a little over 14% of that total sales number at CA$29,393,000 million.
Look for Dispensaries in Vancouver here
Ottawa
The country's capital has been a key player in cannabis product sales in the province. Being far removed from the metropolitan area of Toronto, the majority of the citizens in the area turn to Ottawa to purchase their legal marijuana. With a dozen retail stores already opened and another dozen in process of acquiring the necessary licenses, the future looks good for the Ottawa weed scene.
Fire & Flower Cannabis reported over CA$16 million in sales in their first 11 months of operation combining their two locations and already received its Retail operator licence to legally open another eight retail stores across Ontario. In 2020, Ottawa with just over 900,000 population sold over CA$74 million of legal cannabis.
Find the closest dispensary in your area here