In this new, slowly progressing generation Cannabis which was once taboo, is gradually becoming accepted globally. As new states and regions join the Cannabis industry, new, exciting, and, most importantly, profitable opportunities arise. Suppose you're a thriving entrepreneur looking to delve into the world of Cannabis retail operations, cultivating the crop, and learning the ins and outs of the dispensary business. In that case, you're in the right place. With so many aspiring entrepreneurs jumping on the bandwagon, a solid Cannabis business plan is crucial to not only differentiate yourself from the competition but to ensure that your investments aren't going to waste. Whether your operations are medicinal or recreational, In the now highly saturated market, business owners who jumpstart their Cannabis businesses are often left with unsold products due to a lack of strategy. A Cannabis business plan is entirely based on your vision and goals as a business owner, depending on your needs, and it's a living document that can be altered and revisited as your business grows.
Here we'll walk you through the essential elements you'll need to kick-start your business with the experience of your future target customers and the potent crop in mind.
What is a Cannabis Business Plan?
A structured strategy or business plan must be created for any business to flourish. A Cannabis business plan is a written document to help you plan the growth of your future dispensary by laying down the operations to showcase to prospective investors or partners, and it's also a document that state regulators will want to see to grant you a license to sell Marijuana products. Having a Cannabis business plan will solidify the credibility of your potential business ideas while showing authorities you have what it takes to keep your business afloat.
Where do I start? - The Basics of a Cannabis Business Plan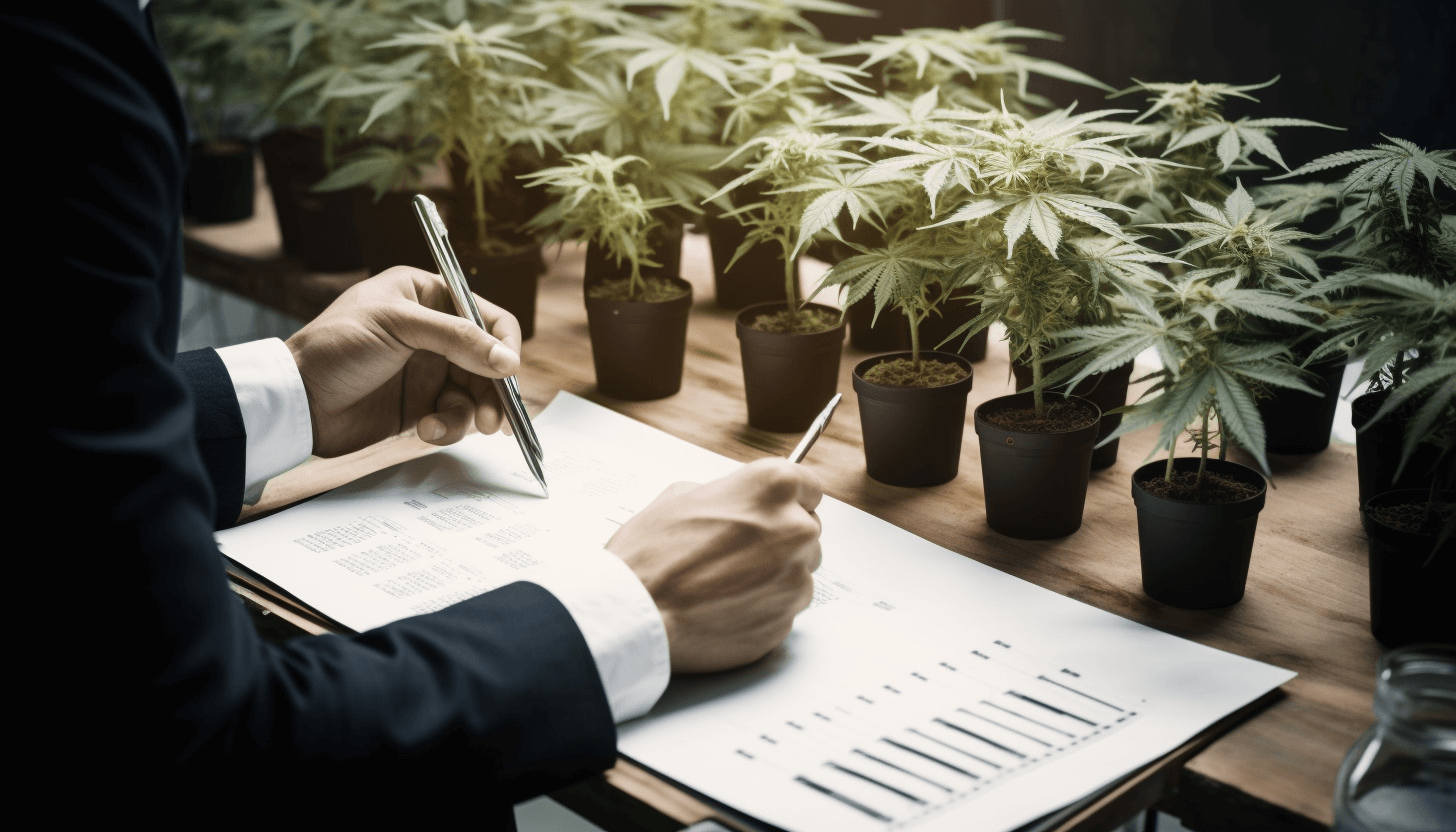 Executive Summary
An executive summary is a section that investors study closely, and it's the determining factor of whether they will invest in your business. The executive summary summarizes your business's "who, what, why, where, when, and how" while highlighting the unique selling proposition that lets them understand that you're different from your competitors. The end goal of an executive summary is to engage your reader in a few seconds or less; think of an elevator pitch.
Your executive summary can include the following:
- Predictive timeline
- Mission and Vision Statement
- Resources
- Location
- Team Members
- Potential Investors/Resources (If any)
- Market & Sales Strategy
Marketing is more than just brand visibility, and it's a short but informational strategy of how your Cannabis brand will position itself on various channels regarding engagement. In a marketing analysis, you'll be able to present your knowledge of the Cannabis industry, your competitors through data, its distribution, and how you can satisfy your demand in a saturated market against your potential customers. A marketing plan inside your Cannabis Business Plan can be a short-summarized version, and you can create an in-depth marketing plan depending on your preferences. A marketing analysis should have the following:
- A SWOT and a competitor analysis
- Product, Place, Prices, Promotions
- A summarized version of social media, advertising, and partnership opportunities.
- Predicted distribution channels and partnerships.
- A market analysis of your target audience and competitors.
- Sales strategies
- Option to add case studies or data to support your process.
Operations Plan
Now that you've determined the goals you have for the future of your Cannabis business plan, your investors are going to want to gain some insight into the day-to-day routines of a Cannabis business owner and their operations. Your operations plan should include clear and concise sections that aren't too wordy but get straight to the point:
Daily Operations: A summary of daily routines; this includes store operations, marketing activities, inventory, packaging, distribution, and being proactive with meeting with potential investors, partners, and distributors.
Long-Term Operation Goals: In this section, you can provide your reader with financial projections for the year and attainable financial goals. Such as the x$ of revenue you expect to reach within the year of operating, the date of distribution contracts, and when you expect to open for business in your preferred location.
Management Team
To elevate your Cannabis business plan, it's essential to showcase the brains behind the big idea through your management team. Highlight the background of your key players, their skills, and past experiences that will help leverage your Cannabis business. Like every business, it may take some time to grow a team of individuals; if your team is lacking, consider creating an advisory board of consultants with previous business, manufacturing, or Cannabis experience. An advisory board can have a few individuals with extensive knowledge who can look like your business's mentors.
Financial Plan and Projections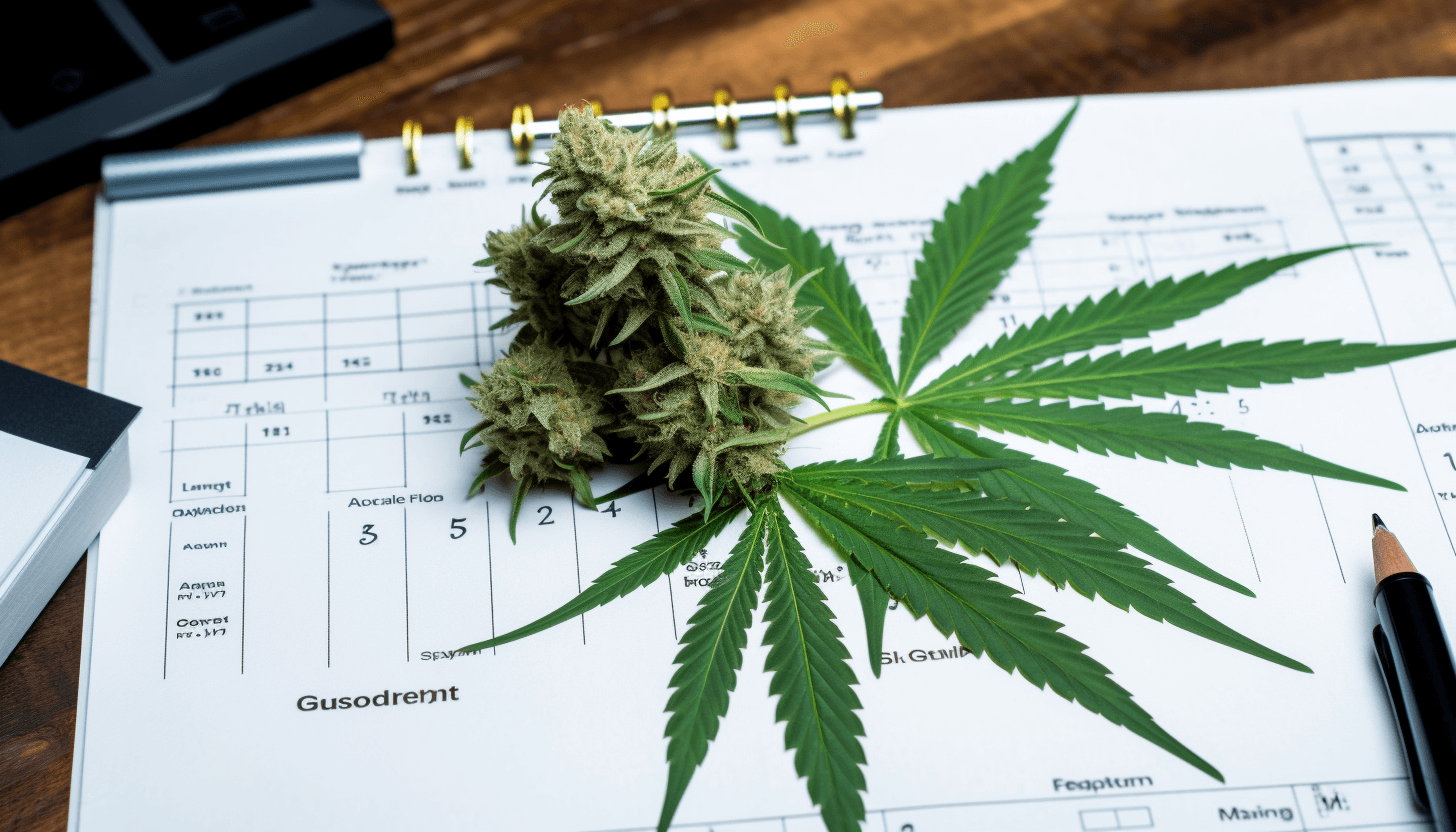 If you're seeking investments, let's talk about the most critical aspect of your Cannabis business plan that your readers will want to know almost immediately, the numbers. Your financial objective and projection must be clear and precise because this realistically backs up the credibility of your business model. Your financial plan must include the following costs:
Rent - You should include a realistic timeline (at least six months) for the rent you need to be covered through your prospective investors.
Licensing Fees - Most states and provinces charge from $5000 to $60,000 to apply for a retail Cannabis licenses. Additional fees such as renewal or application fees are something to consider.
In-store equipment - Consider equipment needed to operate your business, such as POS systems, lighting, surveillance or decor that will help bring your Cannabis retail business to life while attracting your target market. Remember, credibility is key.
Marketing materials - Marketing materials and any tangible brand-related materials such as product packaging, sinages, or merchandise to initiate word-of-mouth marketing must be included in your costings.
Inventory costs from vendor - Most Cannabis distributors buy directly from wholesale, it's important to consider the timelines of how quickly you'll be able to get the products off the shelves and clearly state that in your financial statements.
Salaries - Labor costs of the people you plan to hire should be included in your costings, and yours included!
Now the most important part of your financial projection is the ROI, because let's face it the investors are looking to see what's in it for them. Clearly state an attainable and measurable timeline of when and how you expect to reach the return of investment and how much your prospective investors will get in return.
Summary
Are you inspired by the thought leaders in the Cannabis industry and looking to kick-start a Cannabis business while it's high in demand? While it may be a challenge, it's important to gain more knowledge of the recreational and medicinal benefits of Marijuana, legalities and the ins and out of the Cannabis community. If you're starting from scratch, we highly recommend hiring a consultant or a mentor who's familiarized with Cannabis, business operations and the community to help you through your Cannabis business journey. The Cannabis retail business relies heavily on the community, so it's essential to understand the market. A Cannabis business plan is an excellent living document to begin because it helps you clearly visualize where you want to go, what you want to achieve, who you want to target and who you want to do business with. As mentioned before, it's not concrete and you have room to alter and elevate as your ideas come to life! Good luck.