I was so excited to write this blog highlighting the 2021 Electric Island Festival. It was my first time EVER at an EDM (Electronic Dance Music) show and to top it off it was at Electric Island! Not only was Leafythings attending with our photo - op ready van, our very own Jane was opening the Saturday show. This was already a weekend we were never going to forget.
The day started bright and early as always, the Leafythings team got together to #BurnANewLeaf before the day begins. This time the team was rolling that's "not for the faint of heart!". It was Smokes and Jokes Lot#6267 also known as Koffee Kush. This was the best way to start the day, just like a hot cup of fresh coffee!
After the smoke I decided to go explore and take a live video on our Leafythings Lounge Facebook group - The festival was HUGE. They had 3 stages, all located in different areas of Ontario Place. The Leafythings van was parked next to the main stage. There were several vendors, and bars all spread around as well. It got me wondering "how big is this festival?", I've never been before and didn't know what to expect!
Finally, the doors were open - and the crowd started coming in! The event ran from 11 am-8 pm, with most people coming towards the evening. The Leafythings van door was open and the light was flashing! "Come get your Freebies and your photo - ops with us!", the team would be screaming and getting everyone's attention. That's exactly what we started doing - towels, hats, water bottles, and more we're being given out, everyone adding the extra piece of merch to their amazing outfits. Humberly Gonzalez, an actress from Toronto stopped by and got some amazing photos done in the van done by our team. Her outfit was incredible, the rainbow pants and top were both reflective and shining in the sun.
The day continued with merch being given out and weed being smoked! The festival was getting full, the music was blasting and everyone was dancing and being incredibly friendly. Everyone was walking around with some sort of Leafythings merch on, whether it be a hat, a water bottle, or simply a towel for the hot day. We were having so much fun and time was flying by. So much so that I didn't realize that it was almost 3 pm! "I have to go!" I screamed as I ran across the whole festival to Stage 2 to see our very own Jane perform her first show at Electric Island as DJ Boco!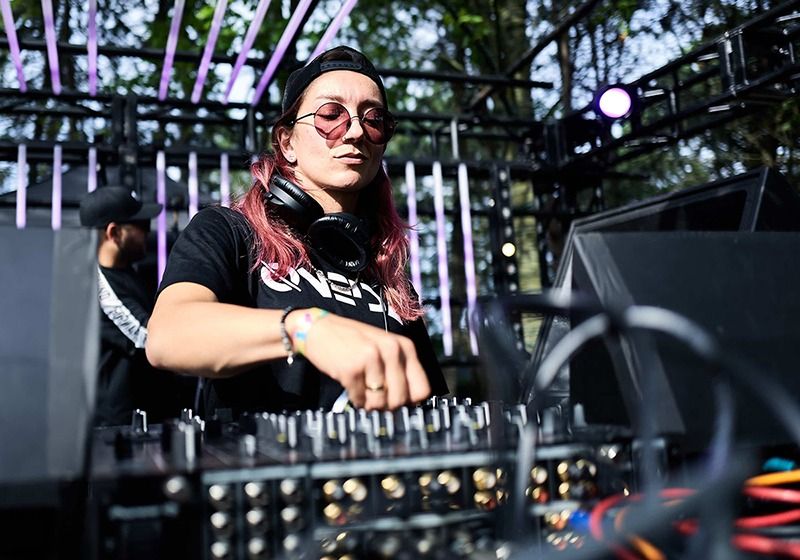 I arrived at the stage and she had just started her set - The crowd was HUGE, even bigger than the other two stages and this wasn't even the main stage! Boco had her set-list catered to the people, she knew exactly what she was doing. "BOCO, BOCO, BOCO!" The crowd would chant every time the beat was about to drop. The crowds kept coming and filling up the space while Boco was dancing and smiling and playing what I'd think was the best set of the festival! She even had Tik Tok star, Saif Shawf, with over 4 million followers on Tik Tok, join her on stage as he was dancing to the beat. The crowd was going wild during her 2 - hour set everyone dancing and recording videos. It was insane!
Once the set was completed, I joined DJ Boco as her entourage and walked around the festival getting tons of content and photos done as the star herself walked around and was greeted and applauded by everyone. "You KILLED it DJ BOCO!" one girl said; another saying "I would literally die to be her friend!". The people loved DJ Boco and she had made a name for herself. We walked around, going backstage to all the stages meeting the other DJs, and giving out some free Leafythings hats and towels to them all, hoping they'd wear them on stage!
Overall, the 2-day festival was incredible. The first day filled with excitement as DJ Boco was opening the festival and the Leafythings team was able to join in and give out freebies to some incredible people! The second day filled with that same excitement and even more memories. This was one for the books and Electric Island will never forget Leafythings!