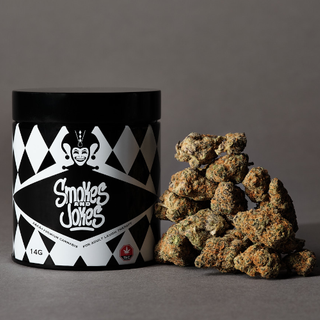 14g Smokes And Jokes Lot #7220
Description
If you are searching for an indica dominant hybrid strain to help you relax at the end of a long day, then stop searching right now because Lot #7220 is here to carry your stress and worry far away. Be warned. Lot #7220 is one dominant indica that packs a punch with an average THC content between 22-25%.
One of the most exciting things about Lot #7220 is that it boasts a delicious flavor that many cannabis enthusiasts across the country have fallen in love with. Even with the indica dominance of Lot #7220, many people have commented about how uplifting, and energetic the high is. You'll experience a spicy and sweet citrus berry flavor with a decadent creamy flavor on the exhale. When you combine that with the dank and pungent classic skunk aroma, you're in for a treat!
Reviews
We currently have no reviews.