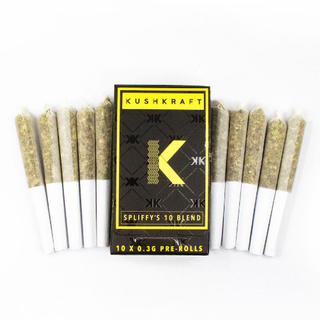 10 x .3g Pack Spliffies 10 Blend
Lab Testing
Cannabinoid Testing
Description
Full Bud House-Blend Pre-rolled joints pack. 10 pre-rolls per box.
Our pre-rolled essentials pack is the perfect companion for a spliffy on the go. Consisting of 10 x .3g pre-rolls, this is the perfect way to enjoy a quick sess when you are on your feet and always in motion. A pre-roll is perfect for those who enjoy their weed in small doses and with utmost convenience.
We've specially selected our favourite cannabis strains and put them together in a pack that will transport your mind and body to a new dimension of relaxation. Enjoy the benefits of:
Mellow high
Pain relief
Relief from anxiety

New York City, NY
Showing results closest to your selected region
Where to Buy This Product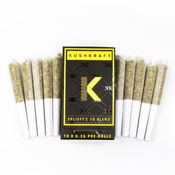 Where to buy
10 x .3g Pack Spliffies 10 Blend
Reviews
We currently have no reviews.
More by KushKraft
New York City, NY
Showing results closest to your selected region